Marketing could be for anyone; in today's time, it is not only bounded for organizations or multinational companies. If you're providing something for the people, then you're ought to do marketing. Else, whatever you're creating goes to the waste. However, it is possibly hard for an individual to go for traditional marketing as it's way expensive, and the result might do not come as supposed. Therefore, it is in the best interest of someone who wants to reach a broader audience that he/she should opt for Digital marketing over traditional marketing.
For digital marketing is like walking a dog in the park, but as comfortable it sounds, there are some strategic patterns everyone should follow before applying their hands on it. Because in the age of digital, nothing is like walking a dog in the park. Therefore, you should be aware of the best practice that can help you carry out more from doing less. And to help you learn best practices, in this blog post, we're going to share some of the proven marketing strategies that can help a small business owner or an individual to run a digital marketing campaign successfully. If you're a beginner in digital marketing, then this article is a real gem for you.
Let's get right into it.
Step by step breakdown how you should start a digital marketing campaign
For running a successful digital marketing campaign, below are the stages you should follow to start the process of spreading awareness about your product or service.
(a) Create Content (As much as you can):
If you decide to do the business of clothes, what will you do first? Shout about your business in the market or start creating some clothes?
It is clear and recommended that you should get yourself busy in making clothes. So, when a customer visits your store, you can display them your products. And get some cash running in. This same works for digital marketing. If you have enough content on your website, then it gives the visitor a rich platform to navigate and interact with. And if they find your content engaging, then they might turn into your potential customer.
Shouting about an empty place only wastes time and money. Therefore, whenever you start marketing, make sure that your website has much content that can help you drive sales and google search results.
(b) Choose the right platform to market:
To reach the right destination, it's advised to stand at the right platform, not only true for traveling; it is true in digital marketing, too. Therefore, whenever you start your marketing campaign, you should choose the platform that has a more substantial number of active users, not all users. And according to the study of Statista, Facebook has had been the most active users in October 2019. However, you can also choose Facebook as your all-time choice because it holds its reach to a broader audience that is wider than other platforms.

Find more statistics at Statista
(c) Be Local with Google:
Before you dive into digital marketing over social media, make sure your business has a local presence (for Firms, Org, and Agencies) because it helps you to make excellent visibility in your local areas. According to Google, in a local event, it reported that 46% of searches have local hits and intent, and this number has grown since they reported. Means, before you target an alien audience, this free business listing can help you build your business efficiently locally.
(d) Run Facebook ads with small budget and audience specific:
Social Media accounts bring the audience, which means it increases the rate of followers that are likely to see your content. For instance, if you are an author, then you should target book readers of a specific genre. And keep brainstorming in it.
(This is 1st stage when you spend on the marketing)
Spend a small portion of money on a weekly basis. Because when you post or publish something about your product, you get the idea of how your audience that you got from marketing is interacting. So, you can make changes in your ads or audience for maximum benefits with small investments. If you want to understand how a small budget marketing can help you, then please go to this link here.
(e) Create ads for share:
What's the best in marketing is the mouth publicity of your products or service. When you create ads for shares, you target multiple audiences in a single bow. The below illustration might help you to understand it better.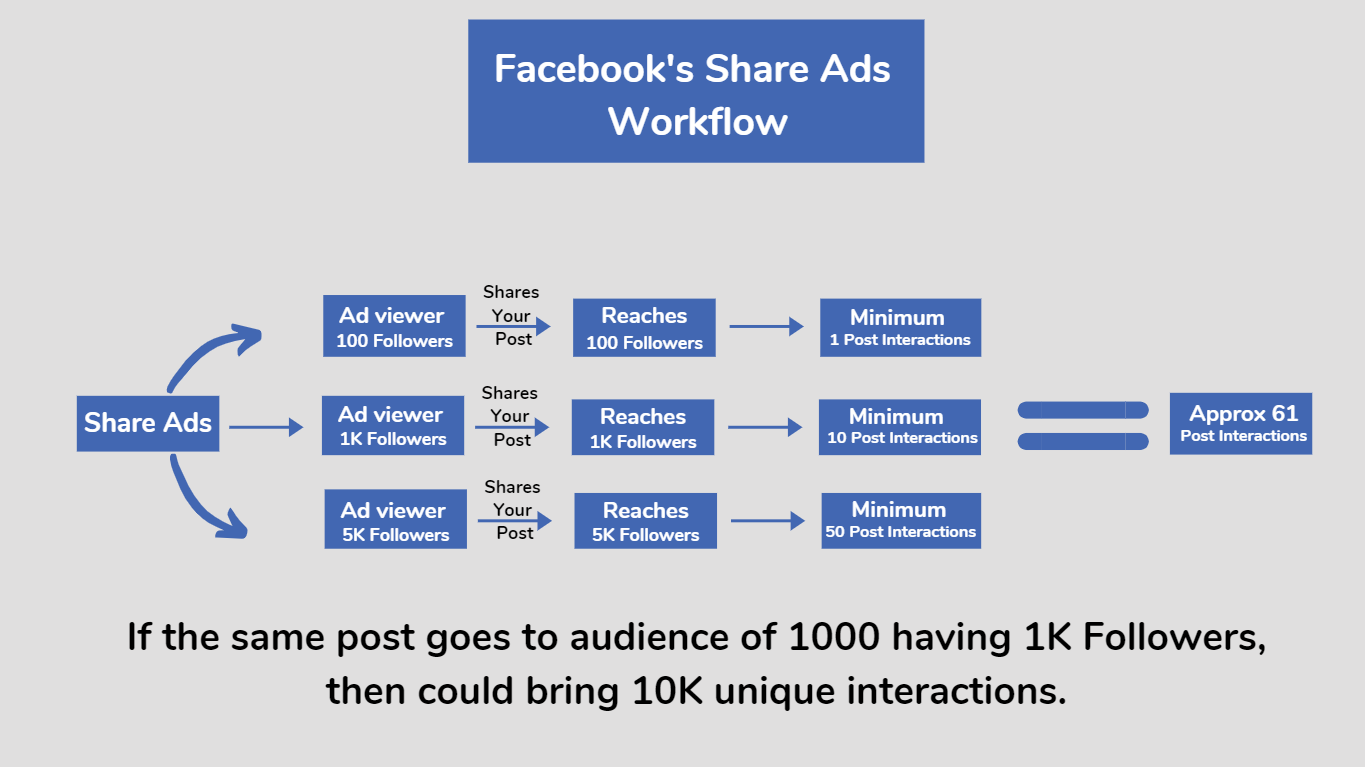 (f) Create ads keeping Instagram in Mind:
As you already know, from 2012, the number of Instagram users has increased rapidly, making it one of the top 10 social media networks. Therefore, it is very crucial that you should create ads for Instagram. Further, when you create ads on Facebook, don't check Automatic placements (recommended) instead use manual ad placement. And make sure that the Instagram option has checked. Because when your ads go to Instagram, then there's the possibility that more users would see your ad take actions.
Alternatively, you can directly create ads on Instagram and uncheck the Instagram options from the Facebook ads creation window. By doing so, you'll have better control where you want to display ads on Instagram.
(g) Twitter Follow ads:
Running follow ads on Twitter helps you build an audience that is ready to interact with your posted content. Plus, it makes your Twitter presence of a reputable, established, and broad audience reach organization. And this step further help in the next marketing steps.
(h) Share Twitter post on Facebook or Vice-versa:
By running a small budget ad campaign, you've already built an audience that would engage what you post. Therefore, when you publish content of Twitter on Facebook, it will take Facebook users to interact with the source (twitter) post. And when they interact with the source's post, the audience on the source gets active. They, too, interact when they see multiple interactions already happened. Means, we interact with posts on social media who's already popular and have likes, comments, and shares.
By doing so, your twitter post gets engagement from both your paid and organic audience. Thus, it increases the twitter account authenticity. And you drive more potential traffic. The same goes for Facebook. Go to this link and see how you can post Facebook and Twitter posts at both networks. Also, look at the illustration below understand this marketing approach better.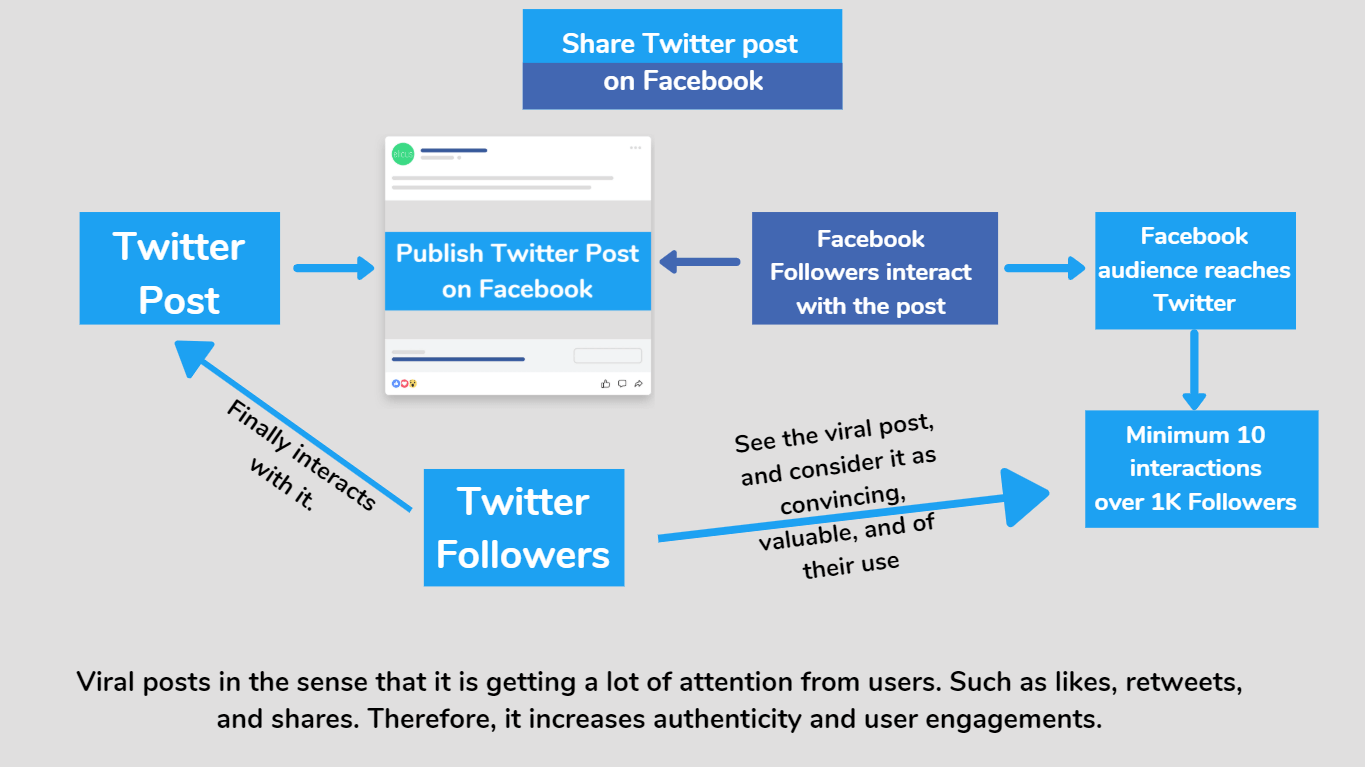 (h) Run Google ads as per Keyword Search:
In the beginning, you may not achieve more conversion through this approach, but you'll be able to list your services, products, and content on the search results. As you grow your reputation, through other methods, this area will start to bring traffic and conversion. Moreover, you'll have a better presence in the local.
(h) Stop, Create and Repeat:
By following the above steps, you can easily be able to bring traffic, interactions, and conversions. Once you reach your social media follower in a range of K's, then stop creating ads. And focus on creating extra content. Doing this helps you to get an idea about how your current audience interacting with your posts and updates; this helps you to understand what kind of content you should make. Because you have a larger audience already, it puts a positive impression on a newer audience. And they more likely to interact with your newly created ads and content. We all interact with content that is coming from a well-established source.
(i) Ads with emotions play a significant role:
Sometimes or every time we buy things that we like, not what we want. Many online shoppers buy gadgets and many things that are of no use, but they like them. And there's our emotion. When seeing a product, our emotion kicks in, and then we tend to go behind that product. Therefore, it very important that when you create content or run ads, make sure it connects with people's emotions, both good and bad ones.
As negative emotion tends to bring more traffic than positive because negative emotion focuses on the pain a person is going through. Whether it's business, relation, health, or anything, if your ad shows a solution to their problems, then it will get more interaction. You can read more about emotion marketing here and here to get a better insight.
(j) Use multiple social media platforms for marketing in 2020:
People tend to do things or take actions if they are influenced. And that's what social media do; it influences people to buy products that celebrities are using, use tools that big agencies and media houses are taking advantage of. Therefore, it is excellent for someone to use more than one social media platform to make a substantial marketing impact on the audience.
When users see the same content over and over on different social networks, they get influenced and inspired to try and get that same product. Because many people on most of the social networks are talking about that product. And in marketing, nothing is better than mouth publicity, as stated earlier in this post.
1. TikTok more than YouTube:
With each year passing, many new social media apps or websites are emerging and making an impact on the digital world. And one of them is TikTok. People these days spend more time on TikTok instead of YouTube because of the short and daily updated content availability. Therefore, it is the best place to start and market to bring traffic to your website and convert that traffic into revenue.
2. YouTube:
People indeed spend extra time on TikTok, but YouTube still the top second social media platform with 2000 million active users. If you're creating lengthy content for marketing, then nothing is better than YouTube.
3. Snapchat:
Numbers in the chart. Snapchat, too holds great significance in marketing. Therefore, it is in the best interest if you use Snapchat for marketing. However, just like TikTok, use it for marketing with short content.
4. LinkedIn:
If you're providing B2B services, then marketing on LinkedIn is one of the best options for you. LinkedIn holds a more significant number of the companies profile. It would drive business traffic to your website better than any other social media platform.
5. Tumbler:
This microblogging website can help you to build the reputation of your website's content as well as bring organic traffic and engage people who are in the same niche or likes to interact with your niche's content.
6. Pinterest:
Pin your blog post images and bring potential traffic to your website. Use illustration in your blog posts and pin them for Pinterest. When a user search for a query and your link doesn't appear on the first page of Google or other search engines, then there's the possibility that your pinned images can appear and bring valuable traffic.
Summary & Above steps in a nutshell:
In this blog post, we've shown you how you can start your marketing from scratch, and by spending a minimal amount of your budget, you can efficiently do good. There's no need to hire a digital marketer or spend much. You can achieve really nice results just following the steps mentioned in the blog post. Take a look once again to keep everything in mind for longer. Or you can bookmark this page in case you miss something when you start your marketing campaign.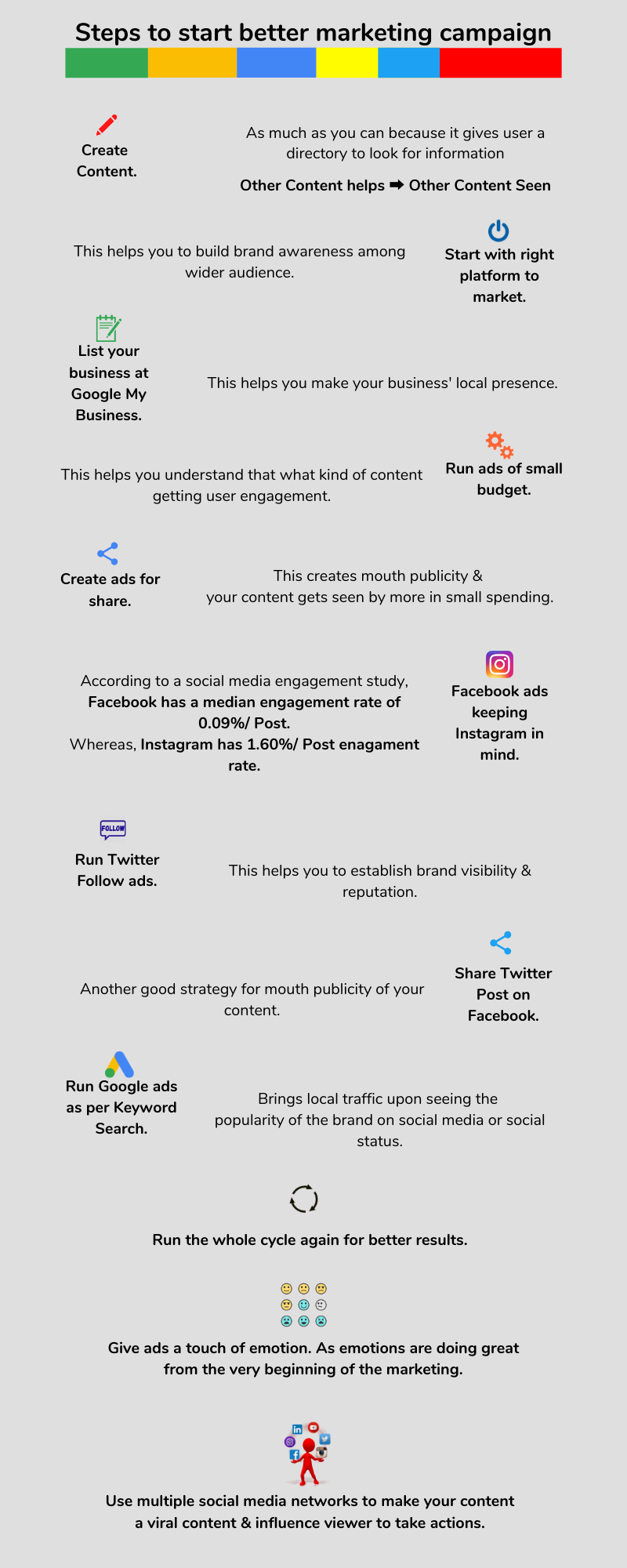 Source: Social Media Benchmark Report
If you liked this post and think that these strategies can work for real (as they worked for our clients), then share your views. And you can also subscribe to our newsletter to get updated with blog posts related to the digital world and everything around it.