When it comes to Search Engine Optimization (SEO) in WordPress, most people will choose the Yoast SEO free plugin. It helps people to carry out essential SEO tasks. Such as Keyword optimization, content readability check, breadcrumbs, sitemaps, Google indexing, and Google Search result preview. Using Yoast SEO free plugin, you get aware of what you've exaggerated and what used less than reasonable. I was too, used to it, to optimize blog posts of my website nathawatbrothers.net, where I write about self-help, life situations, and motivation in my free time. But to optimize my blog posts, even more, I have to opt for the paid version of the Yoast SEO plugin. Like Redirection, Social media preview, SEO analysis, and more.
Some people can afford the paid version of Yoast SEO plugin, so, some cannot. Therefore, to help those people out in optimizing their blog posts without spending money, I did my research and found out a fantastic SEO plugin that does almost everything compared to the paid version of the Yoast SEO plugin. Yes, you read it right, almost everything.
The plugin you'll love to use for SEO of your website is Rank Math. An easy to use SEO plugin that comes in free.
What is Rank Math?
Rank Math is a handsome plugin or tool when it comes to search engine optimization. Or you can say other SEO options besides Yoast. Using this WordPress SEO plugin, you can convert your website into a traffic generating machine as says its setting dashboard. Apart from providing features that Yoast SEO's paid version provides, it also offers users other useful features. We'll look at each one by one as we move forward in this article. But first, how to get this plugin into your WordPress website.
Because it's a free WordPress plugin, you can easily install it from the WordPress Plugin repository. Installing and activating the plugin is the same as for the other plugins.
After activating the plugin, it will take you to the setup wizard just like below, where it will create your Rank Math account and give login access.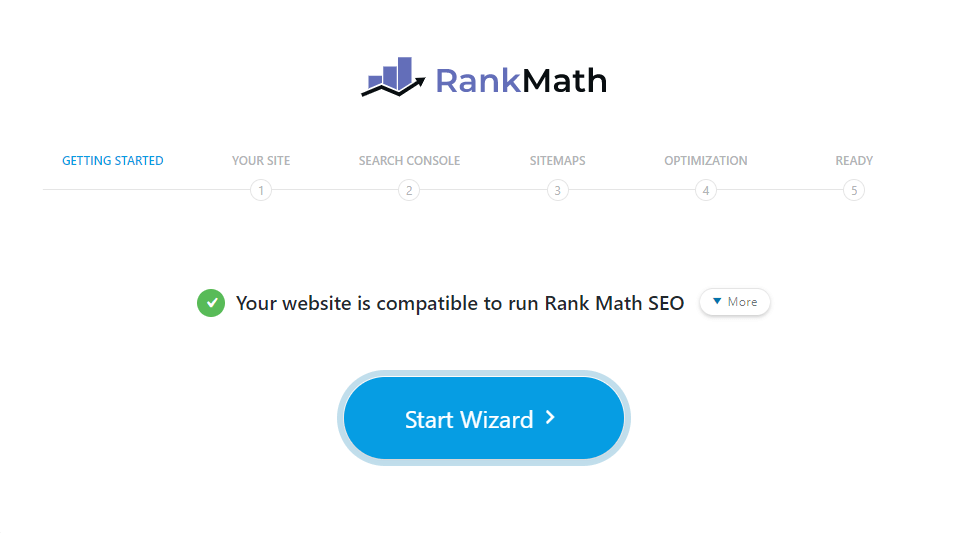 Dashboard Area
After setting up the plugin for your website, you'll be redirected to the Dashboard page, where you'd see settings like below.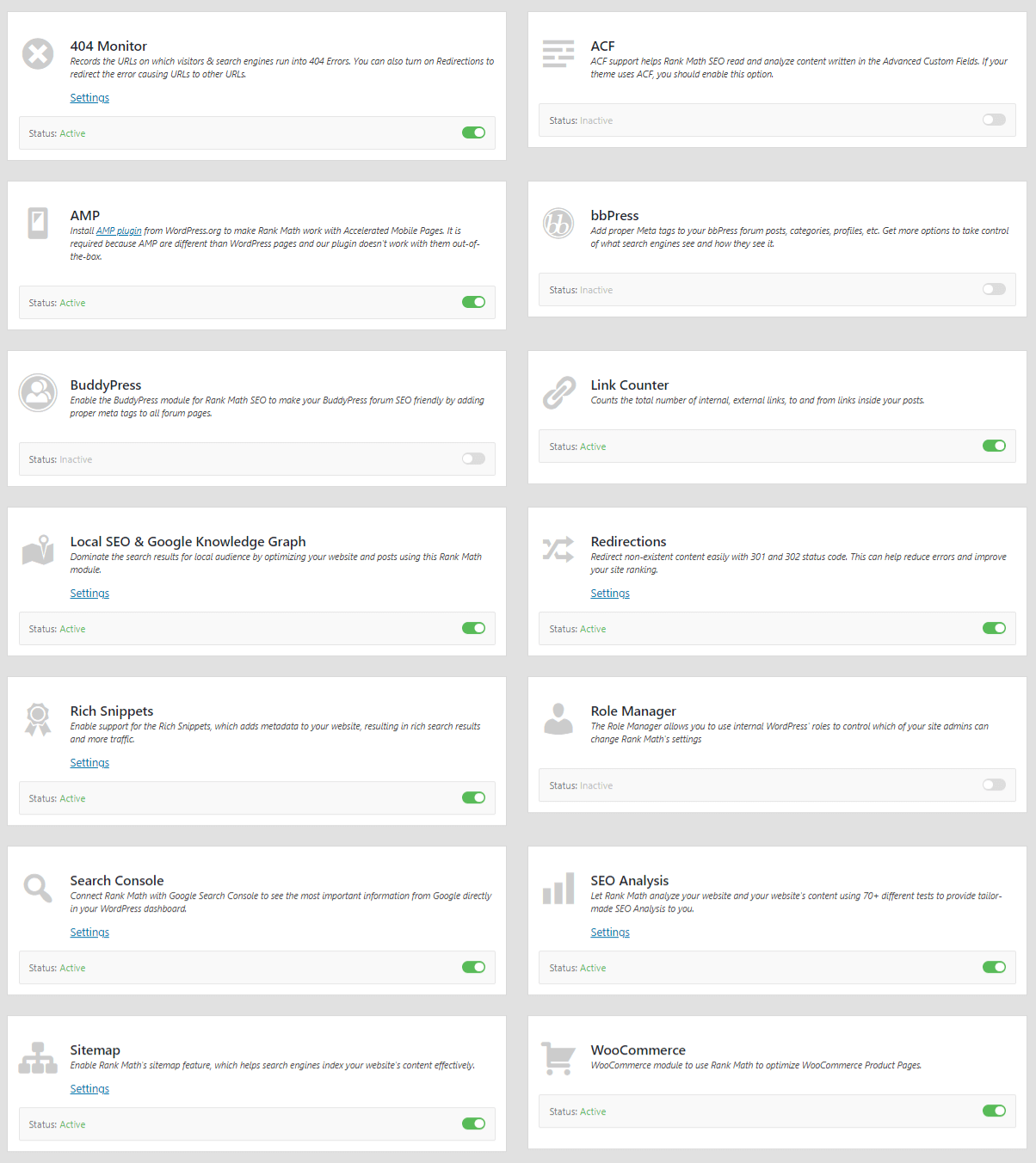 As you can see in the above picture, there are many features that even Yoast SEO's paid version doesn't provide. For instance, AMP support, Rich Snippets that are useful in Google's on page featured results, and Search Console. We'd try to look at all the features of this plugin and to do that, we'll start from posts editor.
SEO tools with Rank Math inside blog posts editor
Just like Yoast SEO, Rank Math, too, provides inside blog posts editor for SEO betterment and analysis, but it's a bit much different.
General

Preview
In the above picture, the preview area with the option to change the view for mobile and desktop is in the right upper corner. The sample preview is precisely the same as we see in the Google Search results; this is nice.
To edit the SEO title, slug, and meta description, you can directly click on the "Edit Snippet" button. Or you can head over to the pencil icon near the elements. When we start to edit the snippet, it displays respective fields with SEO score, while in Yoast SEO, we get SEO bar.
Focus Keyword
Rank Math breaks the barrier of the free version of the Yoast SEO plugin, and minus the requirement for choosing its paid by providing multiple Focus Keywords. And not merely the multiple keywords, it also gives the user suggestions of potential keywords.

Just like Yoast SEO plugin, you can cornerstone the posts by clicking the "This post is a Pillar Content" and use the "Link Suggestion" tab sidebar internal linking.
Basic SEO
This area of Rank Math plugin inside the post editor helps you analyze and optimize the SEO title, meta description, slug, focus keyword, and length of the content.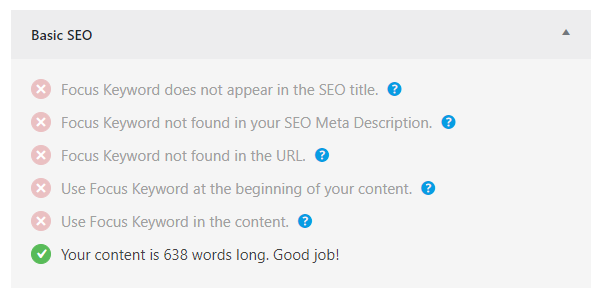 Additional
This section of the Rank Math plugin helps you analyze the technical SEO aspects of your content. Such as headings, subheadings, focus keyword in image's alt text, outbound links, keyword density, and more.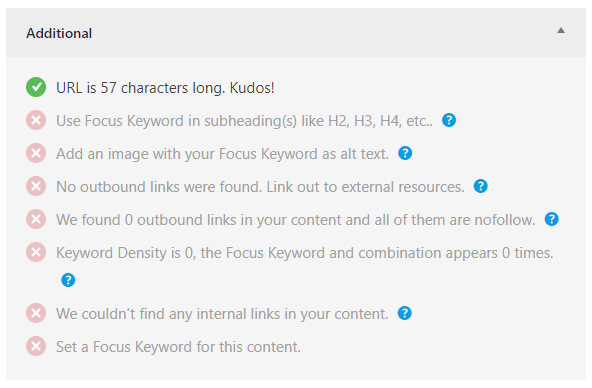 Title and Content Readability
As the heading suggests, in this area of Rank Math plugin, you can check the readability of your Title and Content. Like focus keyword is appearing at the beginning of the title or not. What kind of sentiment your title is reflecting. How many power words you've used in your title.
The content readability area allows you to check how many long paragraphs are there in the content. Is your piece is containing any image or video, and more.
These all mentioned SEO analyzing and optimizing fields are part of the General setting in the Rank Math plugin. Now move on to another setting of it, which is Advanced.
Advanced
Advanced tab in Rank Math plugin gives you control over whether you want your post to be indexed by crawlers or not. It also allows you to control your follow attributes; that is whether you want search results to follow links on the page or not. Moreover, in this same field, you can redirect a particular post to another location for any reason. Like, redirect an outdated post to a new one. Another point to prove it as a best alternative to Yoast SEO.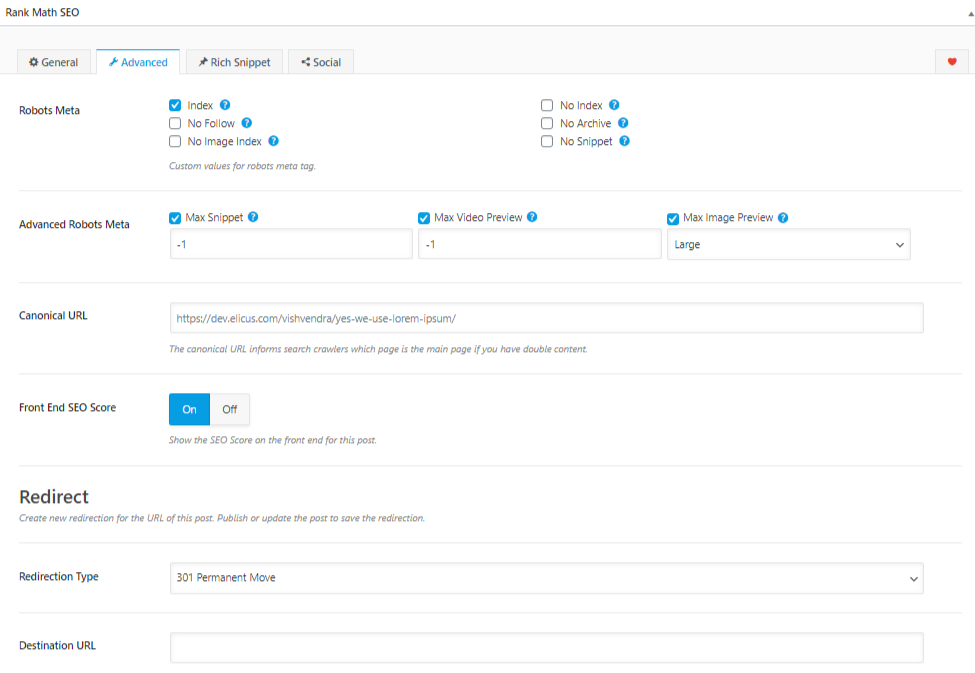 Rich Snippet
Oh man, I love this feature, and you'll, too. Because this feature of Rank Math undoubtedly boasts the ranking of a page. As you might have already aware of the fact that Google is no longer only interested in showing simple search results. Instead, it's the main focus now is to show people no-click results. Means, you get the required information on the search result page without even clicking the results. And that is called Rich results, and examples are below.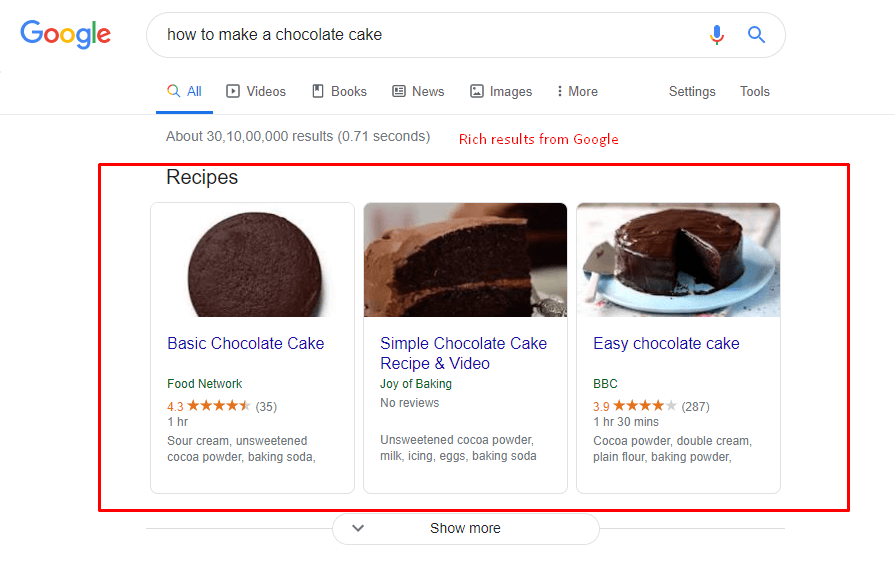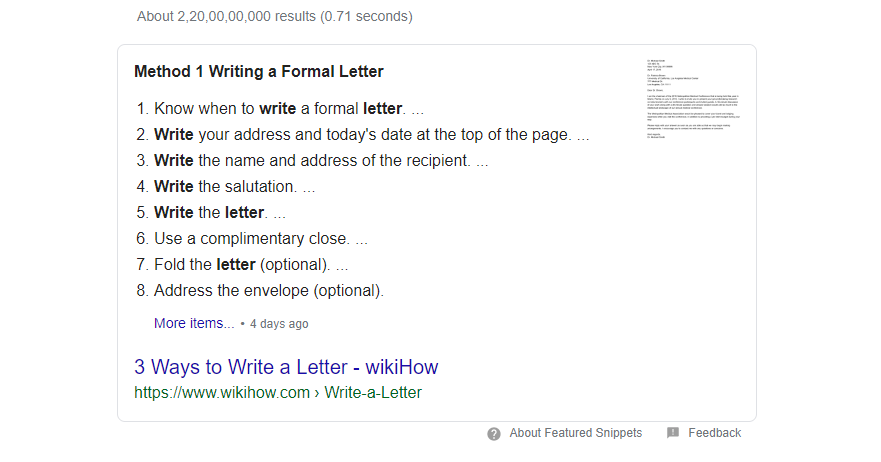 If your site is following the concept of rich results, then you'll surely rank much better than others. And Rank Math plugin does it precisely. Using this plugin, you don't have to make much effort to create content with featured snippets. All you have to do is fill the fields in the right manner of the Rich Snippet section of the Rank Math plugin, and it will take care of all sorts of things to help you stand out in SERPs. One more extra point to the Rank Math for being as Yoast SEO alternative.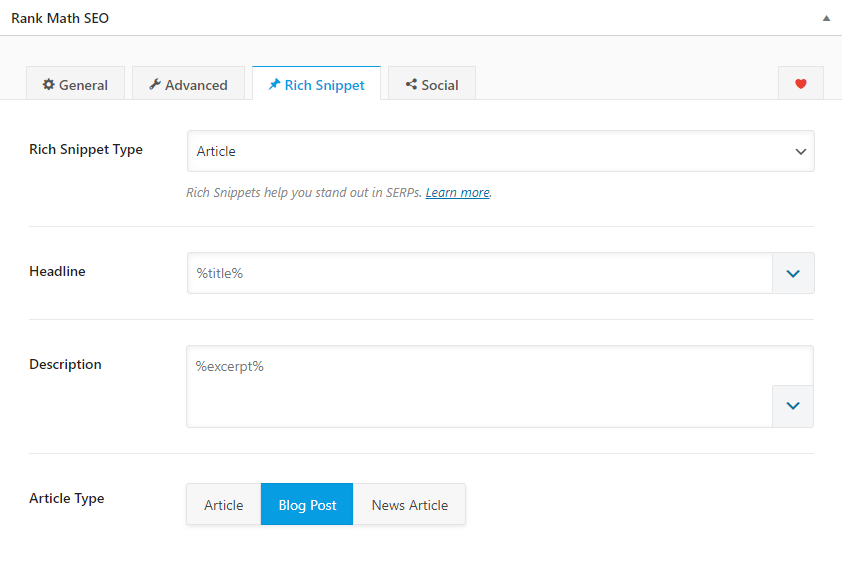 To learn more about rich snippets, you can go to this link here.
Social
You don't get this option in free in Yoast SEO plugin, but Rank Math provides it. Seeing the preview of social media posts before even publishing it helps us to know what's wrong and what isn't.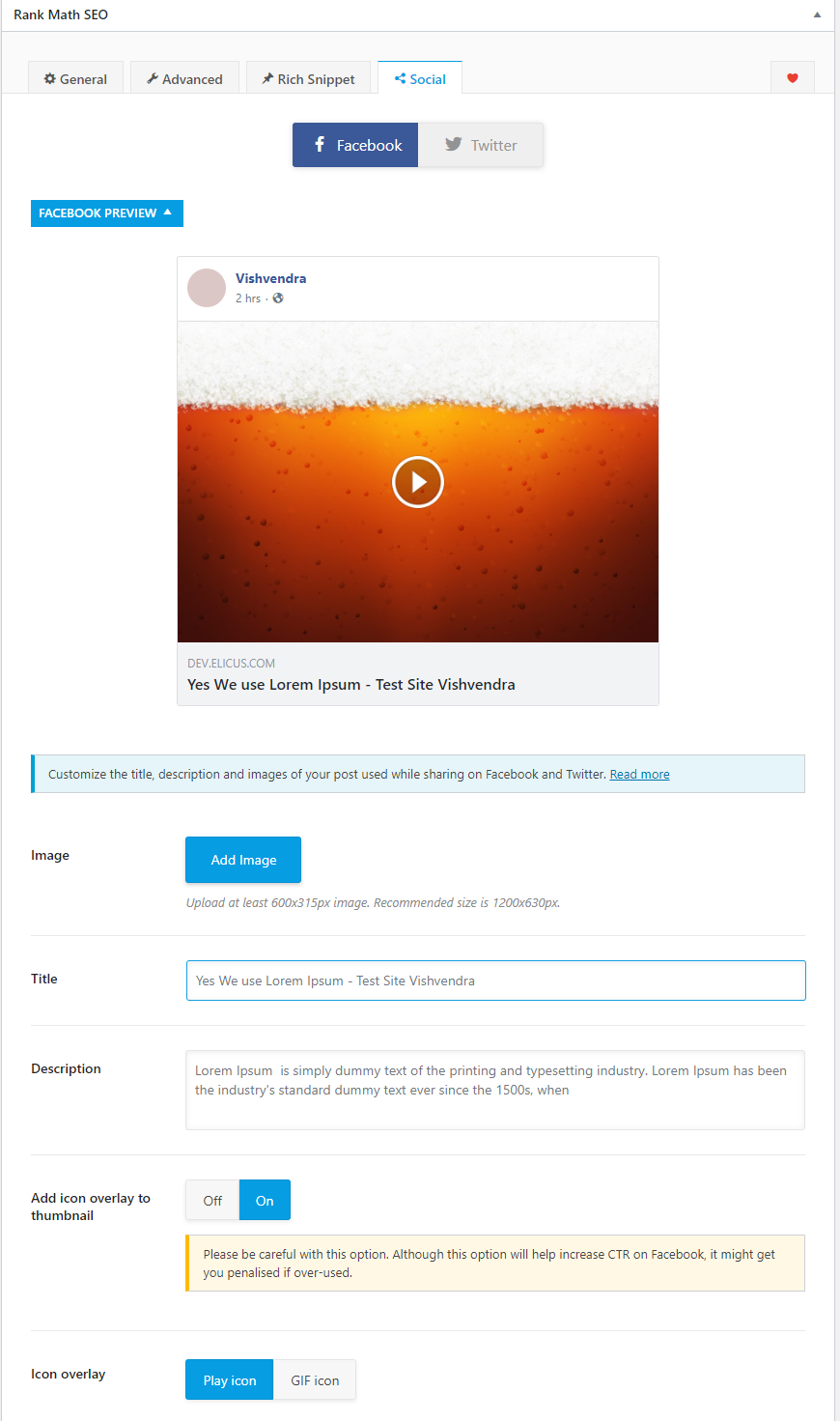 Using this feature of the Rank Math plugin, you can check the preview of Facebook and Twitter. Can able to change the featured image of the post for social media. Moreover, you can also add icon overlay to thumbnail. And there are no charges to use these excellent features.
These all the features mentioned above of the Rank Math plugin help optimize the SEO of a post. Moreover, apart from these, you've also got additional features to optimize the overall SEO score of your website. Let's take a quick look at those, too.
SEO tools with Rank Math outside blog posts editor
There are multiple settings in the Rank Math plugin for improving the overall SEO score of your website. Some of the settings you could find in Yoast SEO's free version and some in Paid. Again, this plugin provides every SEO improvement tool without any cost. And that's the reason it making its place in the SEO market quite well.
General SEO settings
In this particular settings area, you get settings related to the website's links, images, breadcrumbs, and more.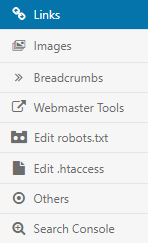 SEO Titles & Meta
This setting allows you to set up your local online presence as well as social media. Here you can customize site title representation for the search results, like separator character and capitalization of the title. Using this particular setting, you'll be able to optimize the SEO of your homepage, post formats, author pages, and even post types, too.

Sitemap Settings
Sitemap settings of Rank Math is a bit different from Yoast's. Here you have the option to exclude some posts, include images or not. You also get the option to include post types and taxonomies in sitemaps. Such as posts, pages, media, projects, categories, and further taxonomies.