The world is changing so fast, and with that, how we work is also changing so dramatically. Where in the 1800s or 1900s, people had to work more than 10 hours each day to earn a few bucks, now you could make a million dollars by just working 4 to 5 hours a week. Or even less. The world was so dependent on physical labor to move its economy, now cherishes robotics to do all the heavy lifting. The stocks turned digital, and the technology around us shaped a new reality of how we interact and live our lives in this modern world.
Freelancing is a significant part of this new civilization, and this blog post will help you know better about it. Plus, if you're thinking, 'What is freelancing and how to start it without any experience?' Then it is the right place from where you can start your exciting freelancing career.
What is Freelancing?
When you work for another individual or a company for a short term, part-time, or full time but not permanent, it's called Freelancing. A freelancing job could be for 1 month, 6 days, 6 months, or a year. It depends on how good the service you provide and how long the client will need it.
Unlike an established company, where employees work under certain working hours, in freelancing, you manage your time according to your situation and the deadline to complete a particular work. You can work all days of the week, or some days of the week, it's totally up to you. Nevertheless, it's possible that you could work under the same roof as other employees to provide your services. Or continue to work remotely – the most famous freelancing way, thanks to the internet and growing digital technology.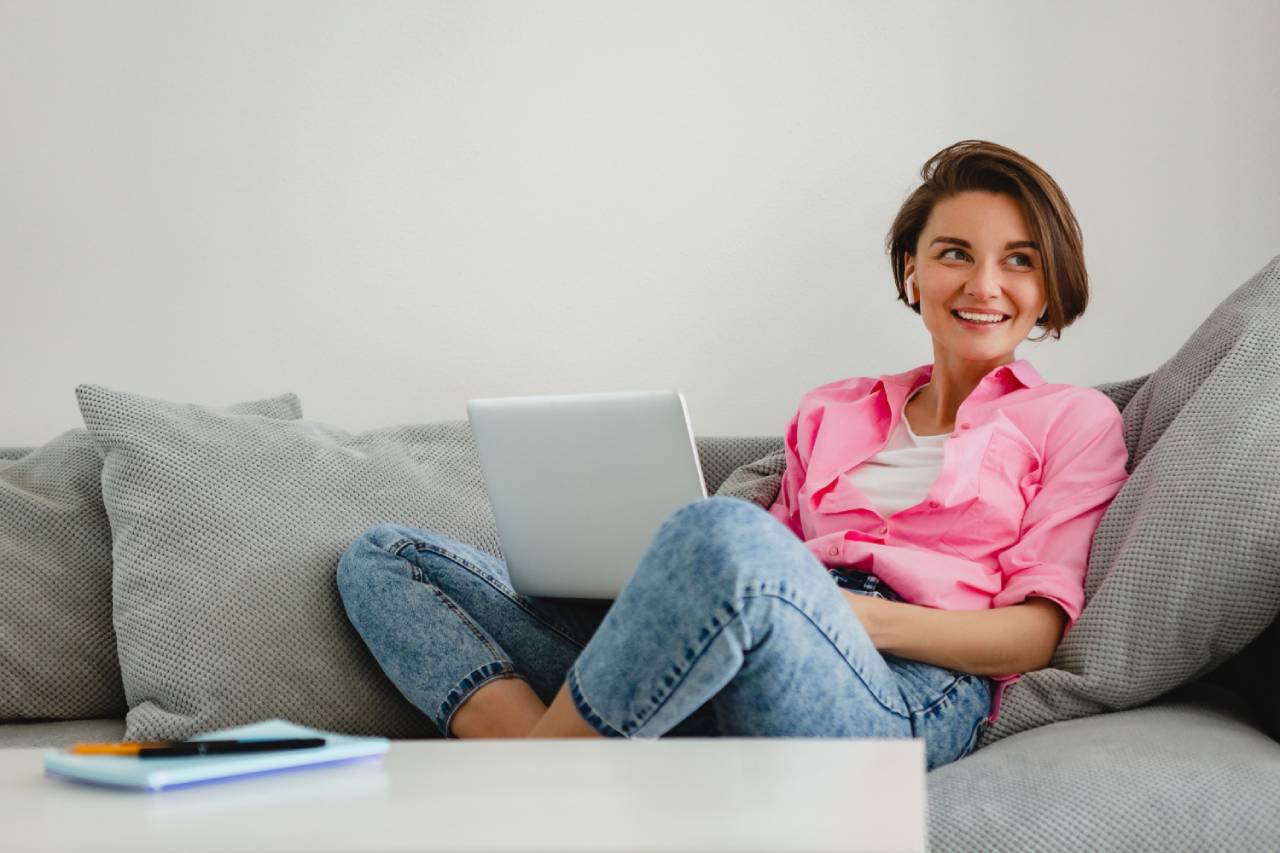 At a single time, it's possible that you'd work to provide services under your skills to multiple clients. Then, get paid based on deliverables. However, if you've struck a contract with the company for payment terms, you'd get paid per week or month in most cases (if the work is for the long term).
While freelancing, whatever the task may be, if it costs to buy some tools or other resources, then all the expenses will be taken by you; the client will only pay you for the job done. If the work is done with great quality and produces some nice results for the client, then you could expect some bonuses, but it's not guaranteed. Whereas in the case of employment, you'd get quarterly bonuses and treats every year.
And there are many things that define what true freelancing is. But, first, let's see where this freelancing work came from and where it would lead us.
History of Freelancing
Freelancing isn't born in today's culture. It has its roots in ancient times. According to Merriam Webster, the first written instance found about freelancing was in the book Ivanhoe by Sir Walter Scott, in which a lord refers to his paid army as 'free lances.' But it's not the only instance where the word freelancing came from. There are other literary works such as The Life and Times of Hugh Miller by Thomas N. Brown.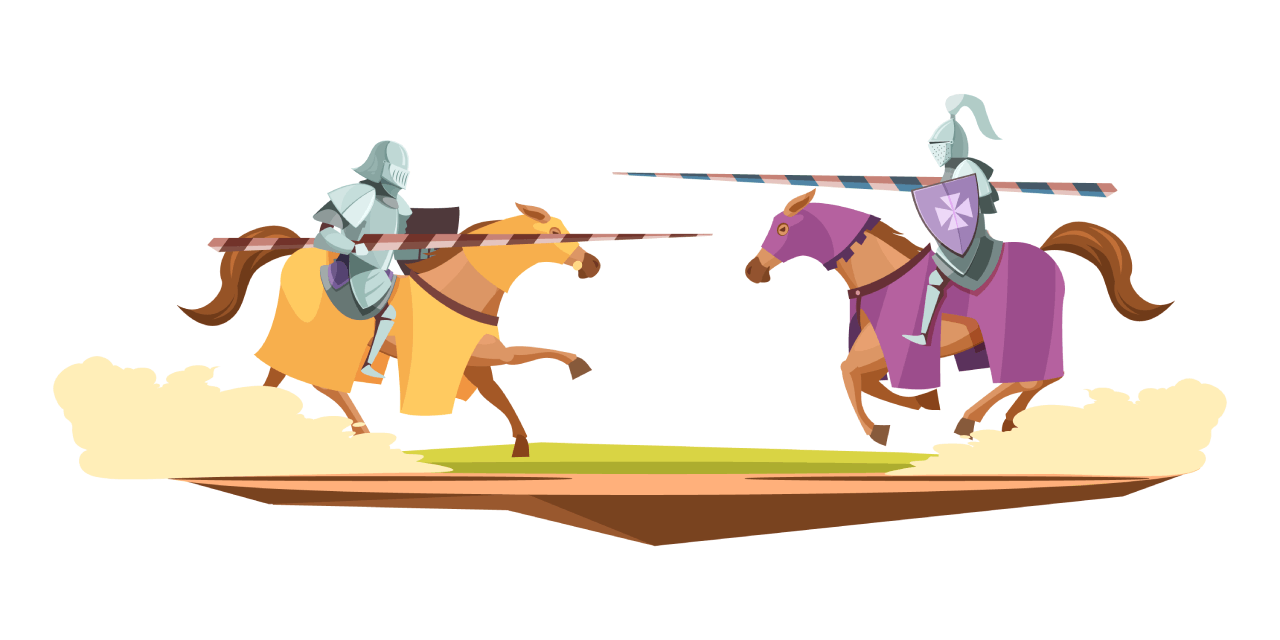 So, the freelancing back then was only limited to paid mercenaries who would fight for the noblemen, whoever paid them the most. The word 'Free' is derived from a Germanic word that means 'love,' and 'lance' is similar to the French word 'launch,' or discharge with force. Therefore, the theory and evidence clarify where the word Freelance is derived and why it was used.
Freelancing World Today
Computer geeks mostly dominate today's freelancing. The economy is moving because digital so does freelancing. Upwork, Freelancer, Fiverr, and PeoplePerHour are the top freelance marketplace where you could find work or hire someone with whatever skill you require. At present, over 36% of the US workforce (about 57.3 million workers) is freelancers. Their contribution to the economy every year is about $1.4 trillion, which is 30% more than in 2016.
The most promising talent or best skills for freelancing that is on hype are from individuals who are computer engineers, web designers, graphic designers, video editors, writers, etc. Remote work is most favorable, and many companies from the start become remote-first companies. It helps them save money that they expend on infrastructure to run it and expense it to improve employees' life.
Freelancing in the Future
The world of freelancing in the future will be more competitive as it's already in the present. By 2027 the majority of US workers will be working as freelancers. And as globalization will spread its wings and technology goes into more hands, the more this freelancing thing will become competitive.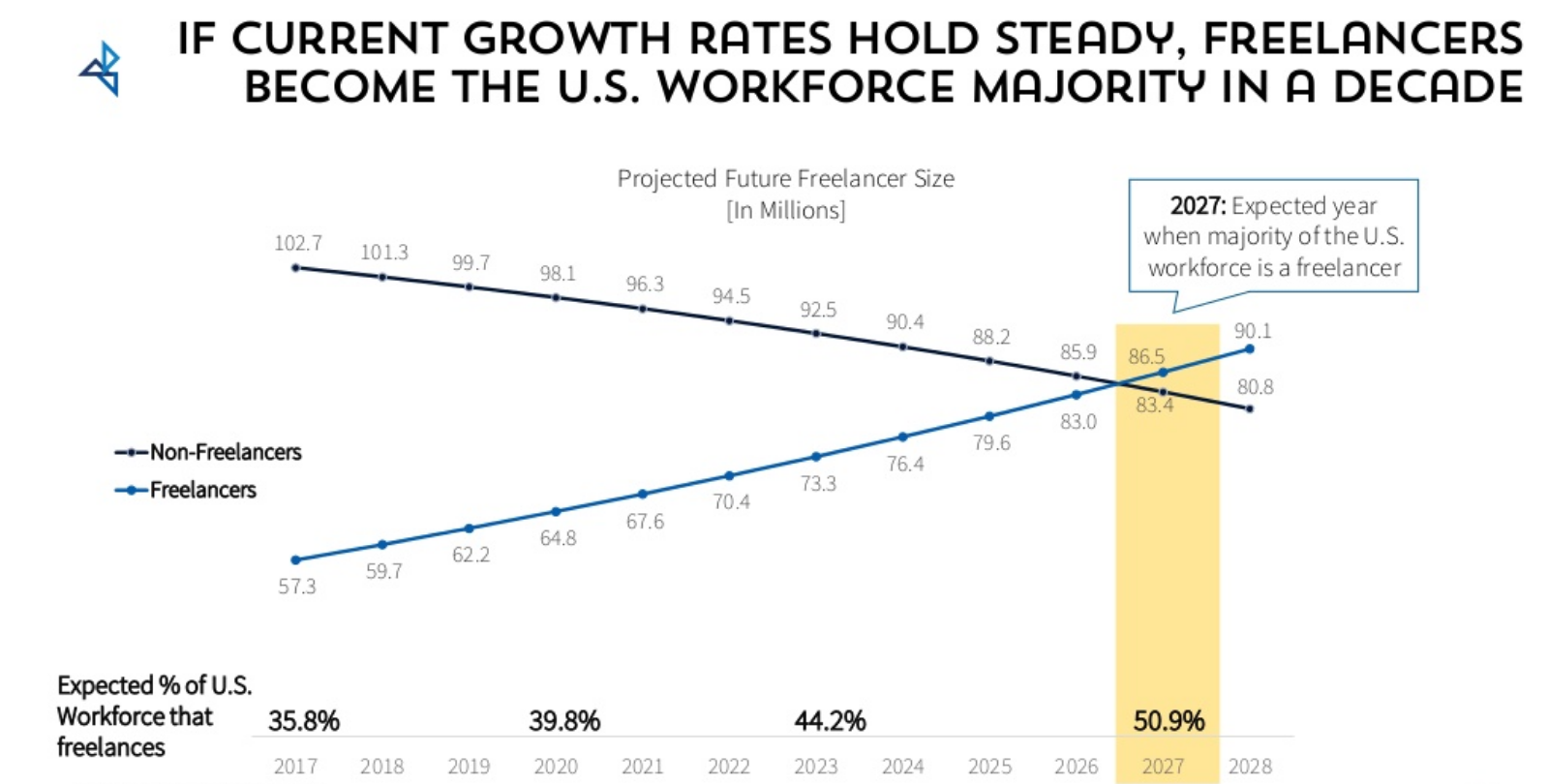 Source: Upwork Slideshare Presentation 2017
Moreover, the higher the number of freelance workers will be available, the more freelance work will be available. It means you'd have more opportunities to secure a particular job and earn more. Plus, right now, the freelance market is primarily dependent on service factors, but it will turn product-based in the future. So, you and the client would have less time-consuming sessions and more work done.
Fiverr already does this, and recently Upwork has also launched its project catalog feature where you can submit a service into more of a product.

Terms Used for Freelancing
When it comes to providing your services to an individual or a company on a short-term or part-time basis, you may come across different terms that people use to refer to freelancing. The terms you should know or at least aware of relating to freelancing are:
1099 or W-8BEN (for Non-U.S.)

: Freelancers in the United States are paid using a tax form called a "

1099-MISC

" issued by the

IRS

. If you're a non-U.S. resident, you've to fill in the tax information in

W-8BEN

to get paid.

Contract Work

: A short-term or part-time contract where you work to complete a single task or project.

Contract Job

: A short-term or part-time contract where you get multiple projects to complete.

Contract-to-hire

: When freelancers are interested in full-time employment, the company provides a test period to assess the freelancer's skills. If you perform well, you'll be hired by the company full-time.
The above terms were the most used terms other than freelance or freelancing when the work involves part-time or short-term job duration.
Individual Freelancer vs. Freelance Agency
An individual freelancer doesn't present any company or organization; he/she classify themselves as self-employed workers who can take random tasks according to their availability and workload. He/she can work remotely or under the same roof as other permanent employees of a particular organization. In this case, they can't work for another client simultaneously because many freelancers choose remote work or work from home. Individual freelancers connect with the client one to one, and there's no involvement of any third party.

On the other hand, a freelance agency is something that's made up by hiring different freelancers at a single time. You provide a job to a freelancing agency, and they hire a freelancer to get the job done.
Somewhat, a freelance agency is an integral part of the company which works parallel with the other branches of the organization. Knows what's happening in the pipeline and always keeps the job-ready beforehand. The agency has the liberty to work with different clients at a single time and gets paid on a monthly basis upon completion of the project's goals.
If you prefer to work as an individual freelancer, you have to work and develop resources on your own. Whereas, if you choose to start a freelance agency, then you have to hire freelancers and can also expect some aid from the organization you're working for. A freelance agency works for more prominent brands most of the time and keeps growing as a whole brand.
Trends of Freelancing
Among self-employed individuals, freelancing is pretty famous. And if you look at the recent trends, you'd be amazed to find out that everything is working in favor of it. Whether a part-time school teacher or a full-time computer geek, everyone loves freelancing, either to make extra bucks on the side or turn their little venture into a big one. Yes, exceptions are there, but for now, put them aside and let's see what's trends are talking about,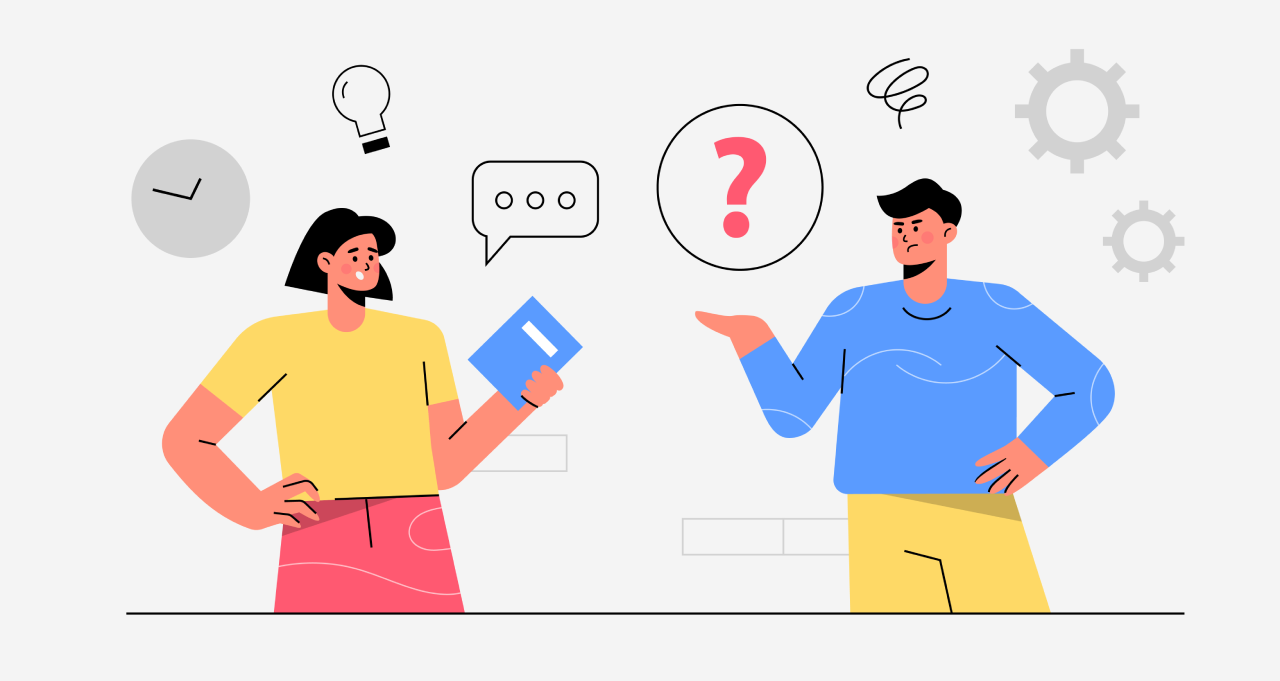 Why Are People Freelancing?
One of the most probable reasons why people prefer to choose to work as a freelancer is the freedom of working hours. Freelancers can decide when to work and how many hours on a particular day. Can work with different clients to double their income and career opportunities. Plus, when you work as a freelancer, you don't have to face any office politics or delight your boss to stay in the good books.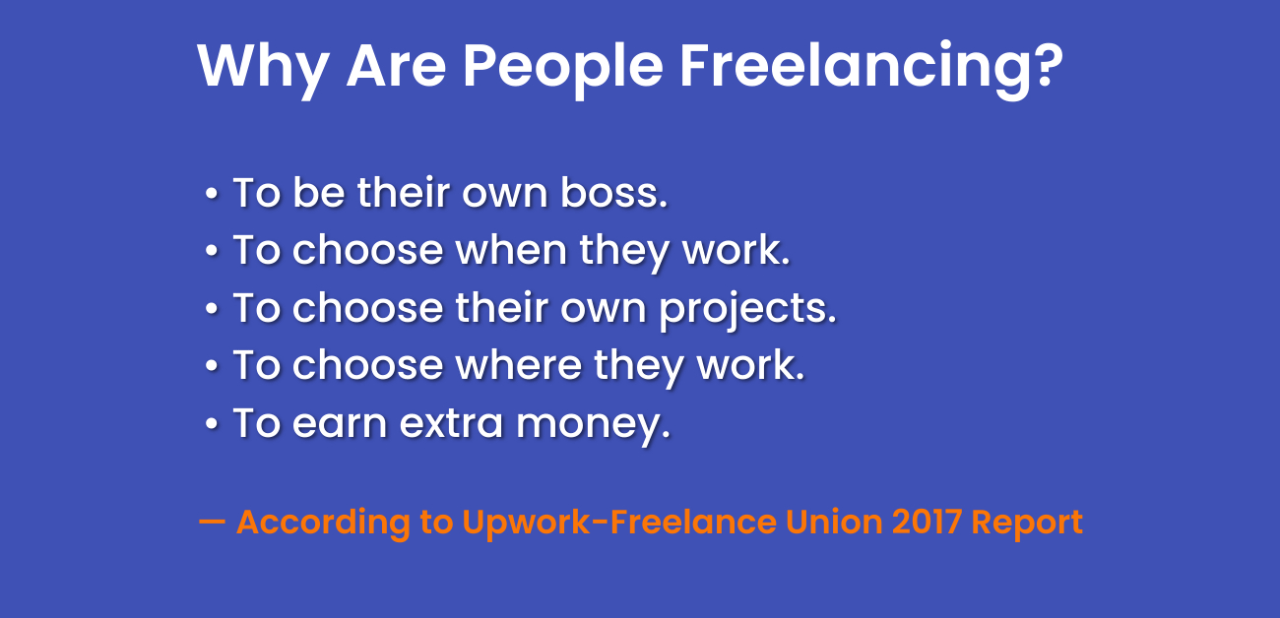 Apart from this, you've got the option to work from home, which saves you time that you probably spend while commuting from home to the office and vice versa.
According to a 2017 report from Upwork, the top reasons that drive people to start freelancing are the desire:
1) to be their own boss,
2) to choose when they work,
3) to choose their own projects,
4) to choose where they work and
5) to earn extra money.
Which Age Group Is Doing Freelance Work or Most Preferred?
Though, you'll find people working as freelancers of any age group. However, the ones who are currently dominating the freelancing market are Gen Z — adults who come from 18 to 22 years old.
A 2020 survey by Statista reported that 50% of Generation Z participate in the freelance market. At the same time, Millenials have 44% of the share. With that, Generation X (adults of 39 – 54 Years old) plays about 30% of the role providing services to the clients as freelancers. And around 26% of Baby Boomers (adults over 54 years) get paid by using their skills as freelancers.
So, if you belong to Gen Z, it would be a great opportunity for you to become a freelancer and earn money. However, if you crossed your 54, then it could be possible that you'd face problems getting a job as a freelancer. But, if you know how to serve clients' issues, you'd find freelancing a treat. Anyway, older people have experience, which the clients prefer.
How Much Can You Earn?
Well, it all depends on how good service you provide to your clients. But looking at the recent trends, it is reported that the weekly salary of a US freelancer is $797. This might look lower to you, but if you take less time to do a job and provide it in a great way, then the chances are you'll make more than that. If you're a man, then the chances are you'll earn $150,000+ more than a woman.
Pros and Cons of Freelancing
Well, everything has its pros and cons, so does freelancing. But looking at the cons, it doesn't mean you should keep yourself away from it and not enjoy all the benefits that it brings. Still, a freelancer should always be aware of both these. Therefore below are some of the crucial cons and pros of being a freelancer,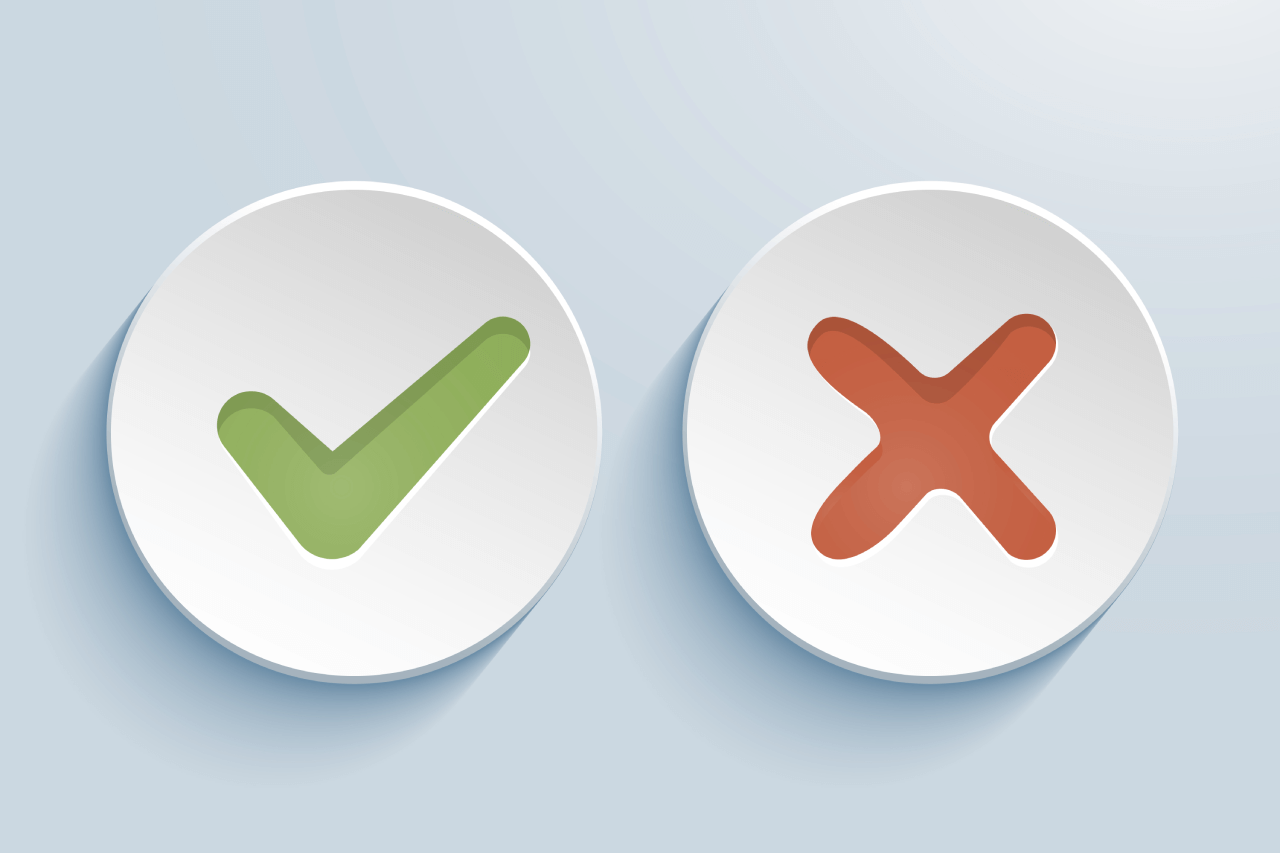 Cons of Freelancing
Need to Win Clients More Often
Being a freelancer means that you won't have permanent clients, except some serious business owners. However, they'll become your long-term clients but not permanent. To keep working and get paid, you've to continuously win clients and provide them with your services. You have to face the struggle to find clients and work. Whereas in the case of full-time employees, their boss takes the stress to find customers or clients.
Less Opportunity for Vacations
If you go on vacation, then who'd fulfill your clients' requests? Nobody, right? When their request isn't fulfilled, they might leave you and hire someone else. And this feeling that your client would hire someone else makes you work non-stop and avoid vacations. No paid time off, no maternity leave, and no opportunity to relax your mind. Even you'd find yourself having less nightly sleep in order to complete the client's job.
No Full-time Employee Benefits
When you work as a freelancer, you don't get any full-time employee benefits, such as insurance coverage, tax reduction, bonuses, company retreats, travel coverage, and much more. You have to get everything on your own.
The Burden to Multitask & Manage the Business
Many times a single client needs multiple things in a single project. For example, if you're a content writer, you may need graphics to elaborate your content. So, to make the content rich with visuals, you may need to create that by yourself. Then, it's possible he/she may require it to be published on several social media networks.
Apart from this, to run your freelancing career successfully, you've to manage different business aspects (sales and marketing, invoicing, signing contracts, troubleshooting technology, keeping track of tax-deductible business expenses, making estimated tax payments, etc.)
Deadline Clash
No matter how hard you try to keep your clients' work separate when it comes to delivery, it inevitably clashes with each other, just like two huge Hollywood movies. Once you're ready to work on another client's project, the last one comes with a request to edit the previous one. So, you keep juggling yourself from one client's requests to another.
Free Work
It happens many times, and if you're new, you'd have to face it more often than two. Perhaps you get lucky and find some honest and serious clients as you begin. Otherwise, people out there always try to get you to work for free. And to build your portfolio, you may do it.
Pros of Freelancing
Time Freedom
You decide when to work and how much. No need to get up early and run to your bathroom to get ready for your 9 to 5 typical job. Either work from home or visit a nearby cafe to enjoy work while having a nice meal. You could also travel to another city if you like.
Freedom to Work With Clients the Type You Want to
Like to work on eCommerce-related projects, then go and submit your proposal to them. Interested in a long-term project, have it your way. Or even if you want to work for clients other than your country, you decide how you want to do it.
Possibilities to Earn More
Unlike a full-time permanent job (though there's nothing permanent in a real sense) where you get a fixed salary, but when you do freelancing, there are many opportunities to work with clients that pay well enough. And by working more and more, you could earn a handful by the end of the week or month.
On average, freelancers make around $19 per hour, which is the least price. So, it's up to you how much you could work on a particular day, to sum up, the week.
No Travel Costs
Yup, by working as a freelancer, you could save the money you'd spend to travel to your office and many things in between. If you look at the study, workers spend an average of 5% of their income commuting to their workplaces.
No Office Politics & Other Chaotic Situations
The killer of the working environment. But by freelancing, you could save yourself from this type of situation. Plus, it also keeps you away from unconventional ways of reviewing employees' work and firing them all of a sudden.
Dress up As You Like
No formals or any sort of dress code that allows you to work in a tight air space. Freelancing gives you this freedom and will enable you to be comfortable as much as you can.
Exposure to Better Skills
Many clients need different skills on a particular project. So, it could be an opportunity for you to explore them and become better at providing your services. You'll add more skills to your portfolio and better chances to get hired by diverse clients needing those skills for their business or work.
More Areas You Can Work as a Freelancer
When you set out to be a freelancer, you'd find that there are lots of different types of freelance work and skills that clients want for their project or the organization. Based on your education and skills, you can try for the following high demanding freelancing jobs (multiple at a single time) to get paid and boost your career as a freelancer,
Web Development

Mobile App Development

Voice Over Artist

Amazon Web Services Expert

Graphic Design

Video Creation and Editing

Video Marketing

SEO Specialist

Copywriting

Freelance Writing

Salesforce Administration

Delivery Driver

Translation Jobs

Engineering and Architecture Jobs

Social Media Marketing

Sales and Business Development

Accounting and Bookkeeping

Virtual Assistant
How Do You Start Freelancing?
If you ask a freelancer, he'd say to you just do it and thank him later. But, everything has a process, and by following it, you end up in a very stable place. The following points will help you hop on your freelancing career.
Quit Your Job
Yes, do it right now. Because by working for your full-time boss and side hustling as a freelancer, you'll press yourself very hard and find yourself in a place where you couldn't fulfill both your work giver's requests.
You'd chase sleep, juggle with your skills, and even when you don't get any gigs out of freelancing, you'd be off pretty soon to your 9 to 5 job, whatever it may be. Because we as human beings always try to remain in our comfort zone and freelancing with a full-time job crashes our relaxing place.
Keep Skills You Know and Learn More
Freelancing marketing is ever-changing; what you know today might not work tomorrow. Therefore, when you start freelancing, it's good you choose the skills you already know, and with that, you groom some new skills. Because over 35% of the skills that workers need have changed since 2020. Therefore, it's better for you to skill, re-skill, and re-skill again.
Register Yourself on Freelance Marketplace
Once you're confident with your skills, it's time you create a freelancer account on a freelance marketplace like Upwork, Freelacer.com, Fiverr, Guru, WeWorkRemotely, etc.
When you create your profile, mention what you really are and what experience in general you have. Don't set your foundations on a lie; it isn't good for you and the business. If you have done any courses, add their completion certificates. Plus, work samples along with client testimonials.
Send Proposal
Navigate through different job postings and what matches your skills the most and your mood, submit a proposal to them. Start slow, don't overboard everything. The less you'd send, the better you'd understand the purpose of sending the proposal.
The best way to send a proposal is that you start with a generous greeting, then follow up with the client's problem and how you could solve it. Furthermore, share your experience and end the proposal with a nice thank you.
Use Your Skills & Give the Best
Once you get a job, use your skills to the fullest and provide the client the best work you can do. If they require any changes or something, accept their suggestions and incorporate them without any hesitation. In this way, you'd build a relationship with him/her, and the better chances are he/she'll become your permanent clients.
Get Paid
After the job is done, you'll get paid. Or you could ask for a 30% to 50% amount upfront. So, there will be fewer chances of you providing work for free. Once the job is done, find new ways to increase your freelancing career to some new heights. However, don't forget to repeat the whole process of getting a job.
That's it; from here, you're on a path to become a successful freelancer. Follow the right approach to get the work and remain honest to provide clients the best result. You'll have great opportunities along the way that many successful freelancers talk about on their YouTube videos. Have any thoughts in your mind? Let me know in the comments.