It's every marketer's need to reach a wider audience in the online world. And to accomplish that, they want their content to be delivered at every single place in regular time intervals. And in digital, nothing is better than social media. For reaching a huge audience and converting them into potential clients.
But putting content every day at every social network is a tiring and time taking task. Moreover, a good marketer doesn't only have a single profile to do marketing, right?
Therefore, they need a tool that can help them to cut the time taken and effort done by a marketer to publish content on social media networks. And allow him/ her to use multiple user accounts.
Fortunately, these days, you can find several post scheduling tools that can help a marketer to publish multiple posts from multiple accounts. However, these tools don't allow users to achieve their goals for free. And their prices for doing post scheduling is a bit much for a small business.
Therefore, in this post, we're going to look at some well-established post scheduling service providers that offer free as well as affordable paid plans.
Buffer
Buffer is a social media management tool. Therefore, apart from helping a user or business to schedule their posts on social media. It also allows the user to respond automatically on social networks. But in this post, we're talking about its publishing service.
Currently, it offers 3 paid plans:
Pro, $15/ month
Premium $65/ month
and Business for $99/ month.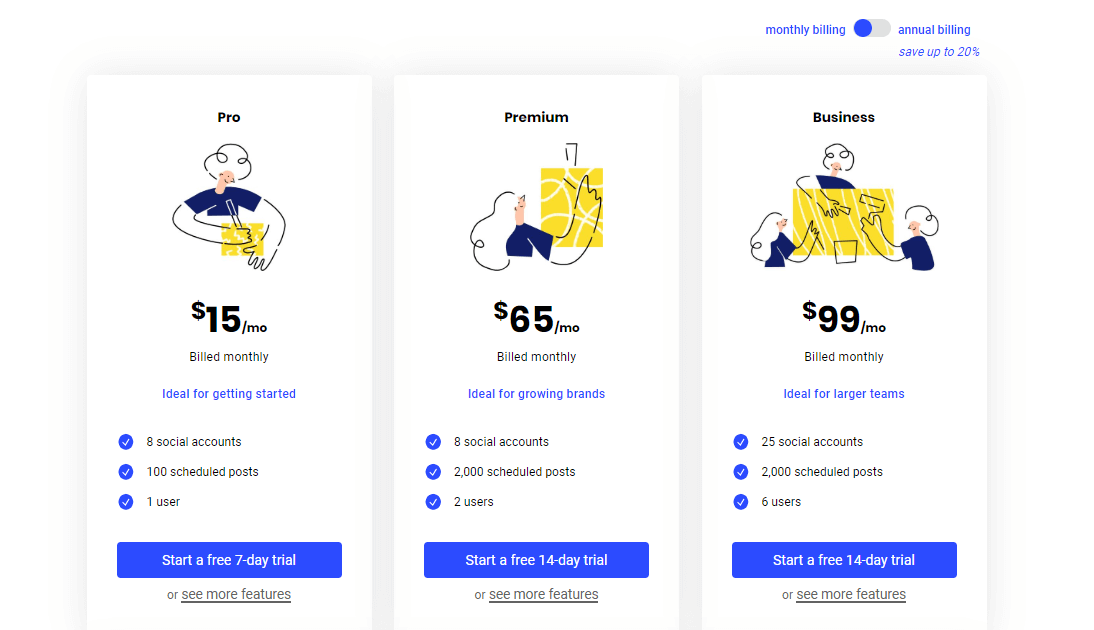 You can also opt for the annual plan, but it can be a little expensive for individuals or small businesses. The basic free account it offers after free trials of paid plans.
So, the good thing about buffer, is that, that for the first 7 or 14 days, you can have the trial with paid plans. You can use all the premium features to get familiar with it for better use.
And after the trial, even if you can't afford the $15 price, then you have got the option to use the free plan. Because it provides quality service that you won't leave it.
Now, what you can do with a free plan?
3 social accounts, 10 scheduled posts, 1 user.
Yeah, with buffer's free plan, you can only operate 3 social accounts (Facebook, Twitter, and Instagram), and for a start, it is enough. 10 scheduled posts for each network.
If you're publishing 1 post each day, then it's enough for a whole week. But if you're planning to post more than 1 post, then you have to go for other options. This applies only if you don't want to expense your money.
Postfity
There is more than one reason, which makes Postfity more preferable than Buffer in terms of post scheduling. First, it's paid plans are cheaper. 2nd, it allows for more social accounts. Third, more number of scheduling posts. And it also allows full history.

However, if we talk about the free plan, then both are on the same ground. And for more than 1 post a day, you need to use both platforms. But unlike buffer, it allows the user to add 5 social accounts and publish posts at once at all the networks in a single click. You don't have to select each network one by one like buffer.
Later
Why Later? You know why, when you read.
If you're planning to publish a single post a day on social media networks, then you won't need any other post scheduling tool mentioned above. In its free plan, it offers a user to add 4 social media accounts, and you can publish up to 30 posts on each. Except for twitter because it allows 50 post publishing.
However, with Later, you can only add accounts of Facebook, Twitter, Instagram, and Pinterest. Also, the posts limit is on a monthly basis. Whereas in the case of others, once the pending post is published, you'll get your limit back.
Later's plans are cheap and have many functionalities than others.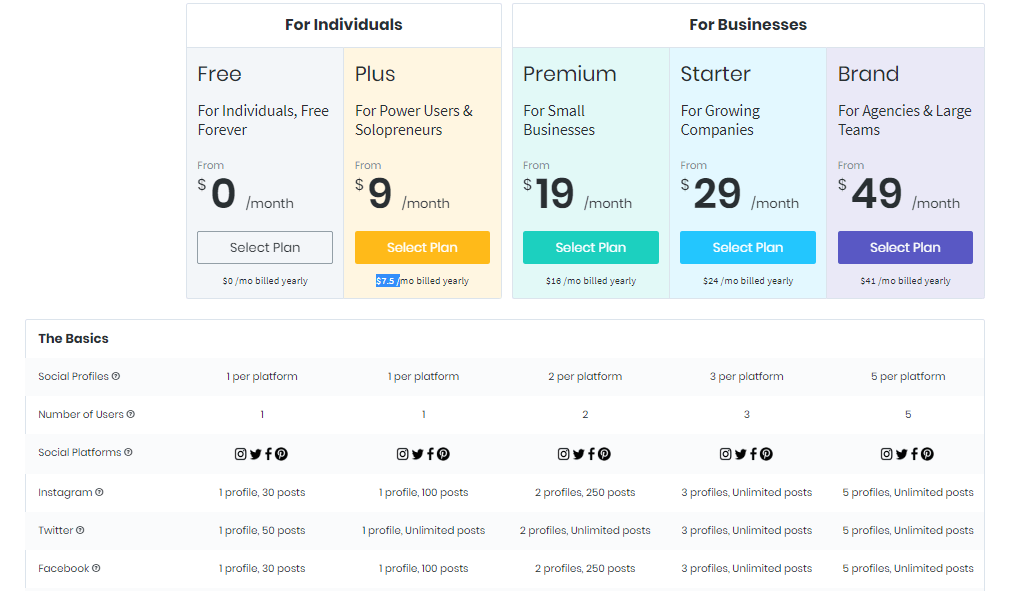 Overall, these mentioned post scheduling tools are very good than other social media management tools in the market. And if you're an individual or a small agency with a tight budget and want to publish more than a single post a day, then combine all three.
Give each a try and decide for yourself which one is best for you. If you've already used the mentioned tool, then please share your views in the comment section. Or if know any other tool than these, then mention that too.