The CMR University's Lakeside campus hosted the first WordCamp in the Silicon Valley of India, Bengaluru also known as the Garden City on 29th of July 2023.
WordCamp is an event that brings together the WordPress community which includes enthusiasts, developers, designers, bloggers, and businesses together. 
It was the fifth WordCamp event attended by the team Elicus. We visited previous events as attendees but this event was very special and memorable for us. Elicus was a Bronze sponsor of WordCamp Bengaluru and it was a big moment for us because we are a company that is 100% based on products and services related to WordPress. Every team member of Elicus is passionate about WordPress and we plan to keep the love for WordPress going forever.
Elicus was represented by Ankur Khurana – Head of Product Engineering, Lokesh Mangyani – Product Manager, and Mohammad Shoeb – Co-founder and CEO.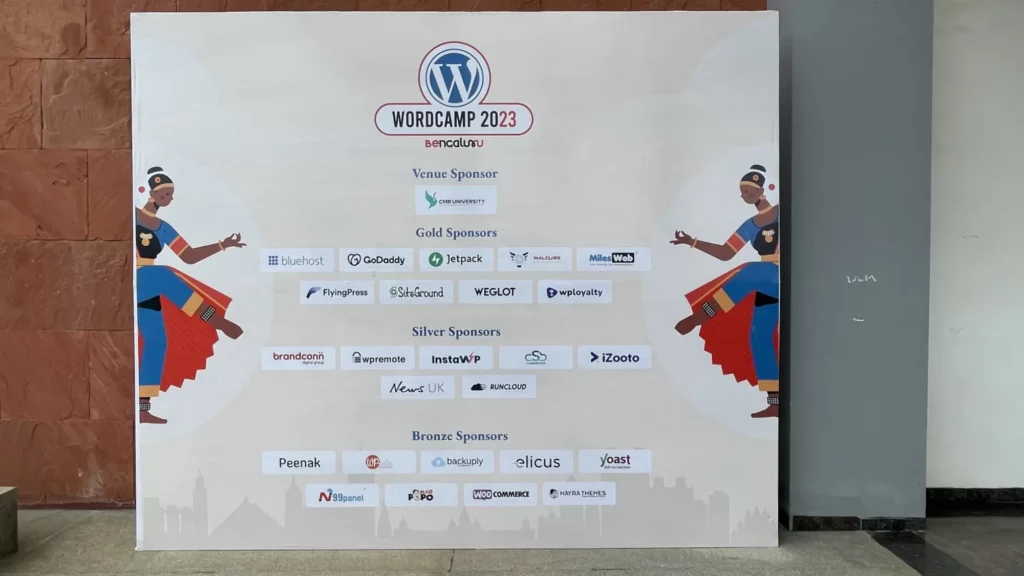 Why We Sponsored the WordCamp Bengaluru?
Elicus is associated with WordPress for more than a decade and wanted to support the community by sponsoring the event. We also wanted to make fellow WordPress users familiar with us and let them know how our products and services can help them create with WordPress. And even start a business build around WordPress using our products.
Our WordCamp Bengaluru Experience
Our WordCamp experience was truly memorable and filled with excitement. We arrived in Bengaluru and couldn't resist exploring the stunning Nandi Hills before settling into the comfortable Marksman Resort, just within 3 miles from the venue, CMR University.
The next morning, we were all geared up for the event, arriving at the university bright and early at 8 am. The registration process went smoothly, and we received some fantastic goodies and ID cards. As we set up our booth, the anticipation grew, and we couldn't wait to connect with fellow attendees.
Breakfast provided the perfect fuel for the day ahead. Once the doors opened, visitors started pouring in, showing genuine interest in our work, our mission, and our origins. We were thrilled to see so many people stopping by to say hi and learn about what we do.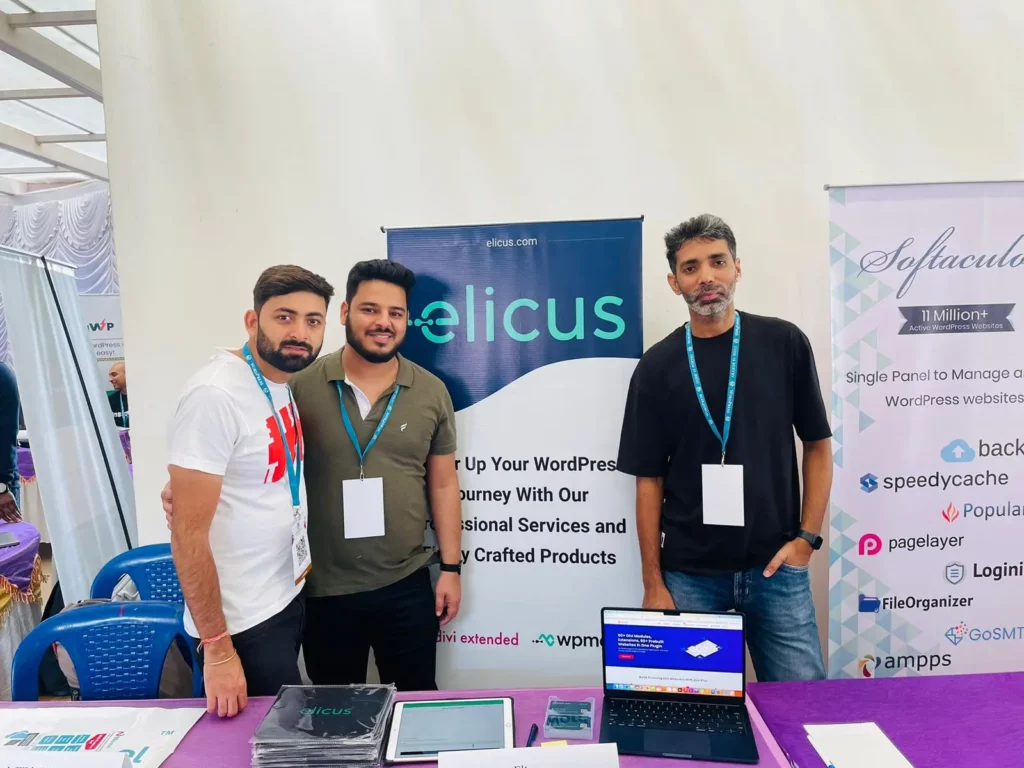 The premium mousepads we gifted were a hit, bringing smiles to everyone's faces. Overall, it was a fantastic experience, and we were grateful for the opportunity to engage with such an enthusiastic and supportive WordPress community.
Despite our sponsor responsibilities, we managed to attend a couple of sessions, finding them to be a treasure trove of knowledge.
Whom We Met?
When you are at WordCamp, you are surrounded by like-minded people. The amazing WordPress users who are curious, excited, and eager to meet and share their stories, journey, love, and passion for WordPress. 
We met a large number of fellow WordPress users in Bengaluru. We exchanged stories and discussed things we love most about WordPress.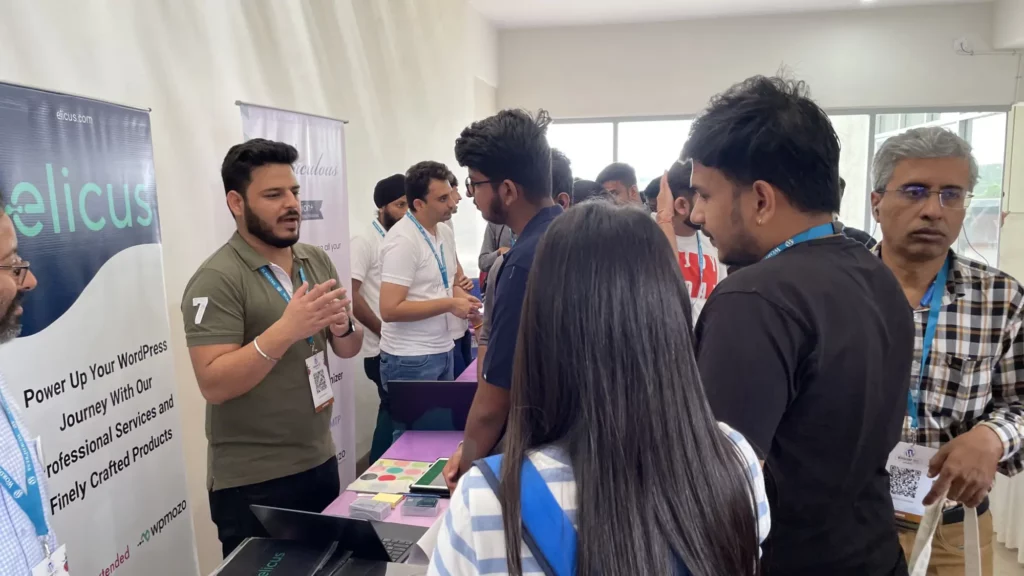 Sessions We Attended
As we sponsored the event and most of our time was spent talking and providing information to our visitors, we could not attend many sessions. However, we attended the following sessions.
Tools and Workflow: Local dev environments for developing WordPress
Improving Core Web Vitals for WordPress Websites.
The Power of Micro-Actions: Thriving with ADHD, Making a Big Difference with Small Steps.
Open Source brought us here, where can it take us?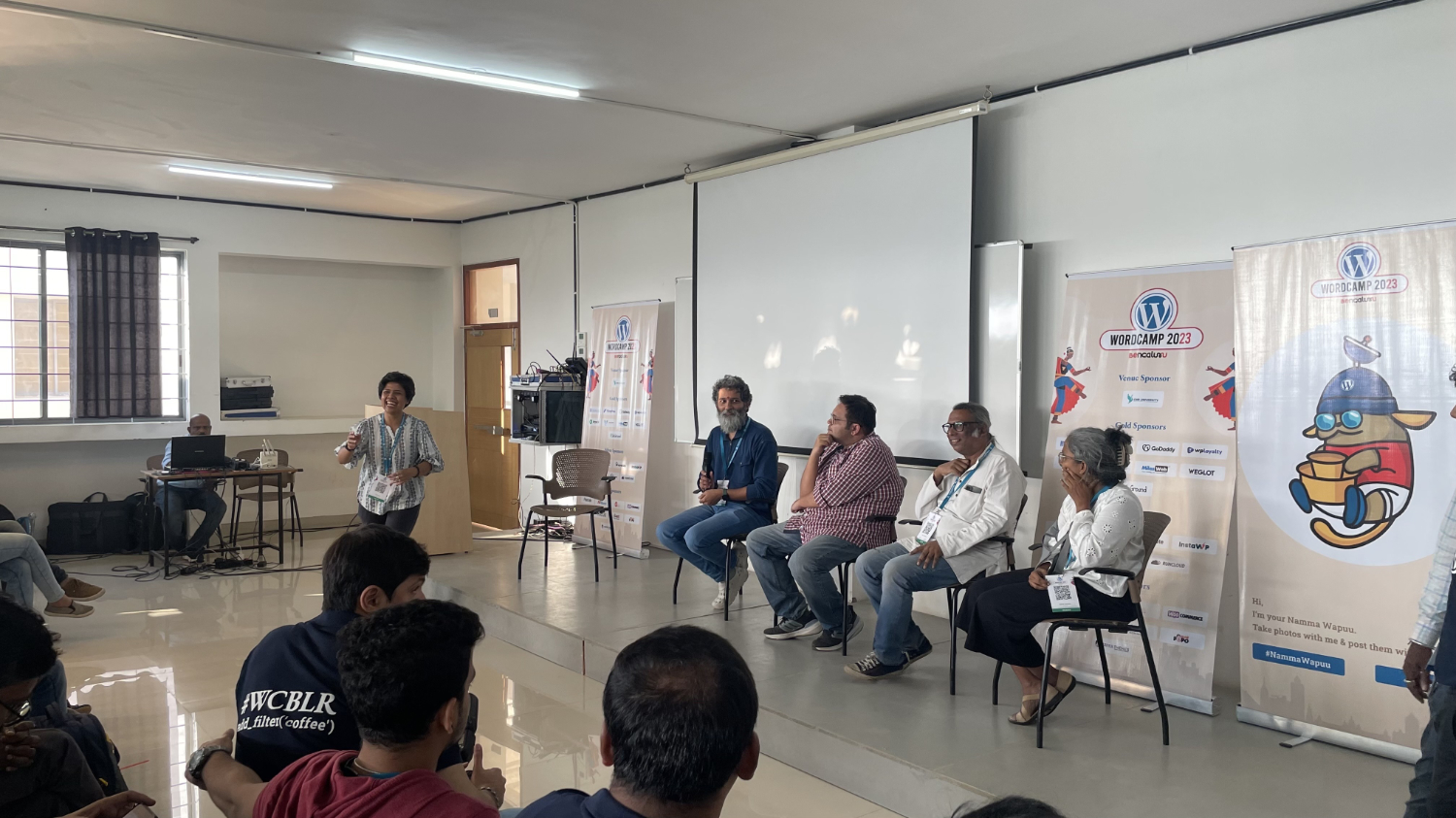 The closing remarks were a highlight, offering insights not only into the event but also the vibrant open-source community around WordPress. The emphasis on collaboration and giving back resonated deeply with our values at Elicus. Witnessing the camaraderie among attendees and their passion for WordPress was inspiring. This experience further solidified our commitment to the open-source community, leaving us eager to stay engaged in future WordCamps and similar events. It was a truly enriching journey, from learning and connecting to contributing to the ever-evolving world of WordPress.
What We Introduced to Our Visitors
We learned from our past WordCamp events that the attendees are curious about meeting fellow users and exploring sponsors' services and products. It was a great opportunity this time to introduce our products and services to our visitors. We made them familiar with our products and let them know how they can be beneficial for them.
Here is a summary of what we introduced to our visitors.
We introduced our Divi Extended brand that we manage since 2017. Divi Extended hosts dozens of products for WordPress that help designers and developers in creating websites and save a lot of time. This range of products that works with Divi includes add-ons for WooCommerce, Gravity Forms, and more. 
Divi Plus
As we also mentioned on our sponsor's page about Divi Plus, we introduced this extension to our visitors which adds a lot of value. Divi Plus can also be used to create a design agency with a large prebuilt collection of Websites available for use for client websites. This is a toolkit we focused on and made visitors familiar with it.
Divi WooCommerce Extended
We introduced this amazing tool that works on top of WordPress, Divi, and WooCommerce. We informed about the multiple features this single plugin has and how it can help WoCommerce users.
We introduced WPMozo to our visitors. We launched this website in July 2023 and it includes products for WordPress. 
We introduced the first product of our store that can be used on any website powered by WooCommerce.
2. Our Multiple Add-ons for Elementor
WPMozo houses other multiple add-ons for Elementor and we made users aware of the tools for creating blogs, galleries, and Instagram feeds on their websites. 
Along with powering more than 100K+ websites through our products, Elicus is also associated with clients from all over the world and offer top-class WordPress development and maintenance services. Before founding Elicus, The co-founders of the company have been actively working with clients as independent providers for as long as 15 years. After starting Elicus as a registered business we got a wider reach with a small but super skilled team of WordPress professionals. 
WordCamp Bengaluru gave us a platform to showcase our finest products and services that adds a lot of value to WordPress users.
Summarizing How Elicus Products Benefit WordPress Users and Agencies
Before we launched our first product for WordPress, we worked as a web development agency. A major part of our work involved working on building websites for our esteemed clients. We learned about using tools to achieve certain results from design to functional goals. We understand how investing in tools can help individuals and businesses achieve their goals and save time. 
We carry this legacy of making things simpler and easier for a WordPress designer or developer and our tools for WordPress are oriented towards achieving the same simplicity and goals that we wanted to achieve as WordPress users.
Our products can be used by WordPress professionals for their own or client websites. Even large agencies looking for premium solutions for their clients can use our products and save time. 
Here are the primary user base of our products and quick info on how Elicus products can be their companions in their WordPress journey.
Individuals: WordPress users can explore our brand websites diviextended.com and wpmozo.com and check out the collection of extensions, prebuilt websites, and layouts we have.
Agencies: diviextended.com lifetime subscription can help agencies who create with Divi save a lot of time with our 50+ prebuilt websites, 50+ modules for Divi, and thousands of layouts. Our store covers a large collection of plugins for Divi which are all included in lifetime membership.
Freelancers: Similar to individuals, freelancers can save time using our Divi Plus plugin and the 50+ prebuilt websites that comes along with it.
NGOs; With prebuilt websites for NGOs, Divi Plus again can be a great choice for NGO-based websites. 
ECommerce store owners: Our both websites have extensions for WooCommerce that can be used to create new stores and add features to existing WooCommerce websites. Products like Divi WooCommerce Extended and Divi Plus are surely worth checking.
Starting a design agency: Imagine starting your own design agency, acquiring clients, and delivering websites powered by WordPress. Divi Plus, one single product from Divi Extended can help you do that. Feel free to reach out if you have any related questions.
Our WordCamp Interaction with Bloggers
We met with bloggers and content creators who write about WordPress products and services. We introduced them to DiviExtended.com, the top-selling author on Elegant Themes marketplace. Our products have helped a large number of users and websites achieve their design and functional goals. 
Professional bloggers can Join us today as an affiliate and explore and write about our products and earn. They can also publish videos about our products. 
Meeting the Jetpack, BlueHost, GoDaddy, Softaculous, Yoast, and other teams
Jetpack is one of our favorite plugins. We interacted with the JetPack team and learned about things going on around this amazing flying machine. We also had words with the BlueHost and Godaddy team at the event. These two were the first providers we hosted with and referred our clients to them. The ever-changing hosting requirements and scenarios have made this industry very competitive and the one that innovates and evolves thrives. 
Similarly, Softaculous is a tool we have been using with many of our cPanel accounts and it was nice to interact and learn about the new features and tools the company has to offer for WordPress users.
We also learned about Yoast's new offers. We love using their free version and it is part of nearly all our business websites.
N99panel had its stall next to us in the networking area we had some great talk about hosting and many technical things associated with WordPress.
Exploring Bengaluru, The Garden City
We landed a day before the WordCamp in the afternoon, took our booked car, and went to the hotel…. Not! The team was excited about exploring the natural beauty the region holds and our first destination in Bengaluru was Nandi Hills. We explore the mesmerizing weather and had a great time before settling down in our hotel.
After WordCamp, the team visited the city of Mysore and nearby places. We explored the hills, rivers, and mountains and met amazing people during our journey.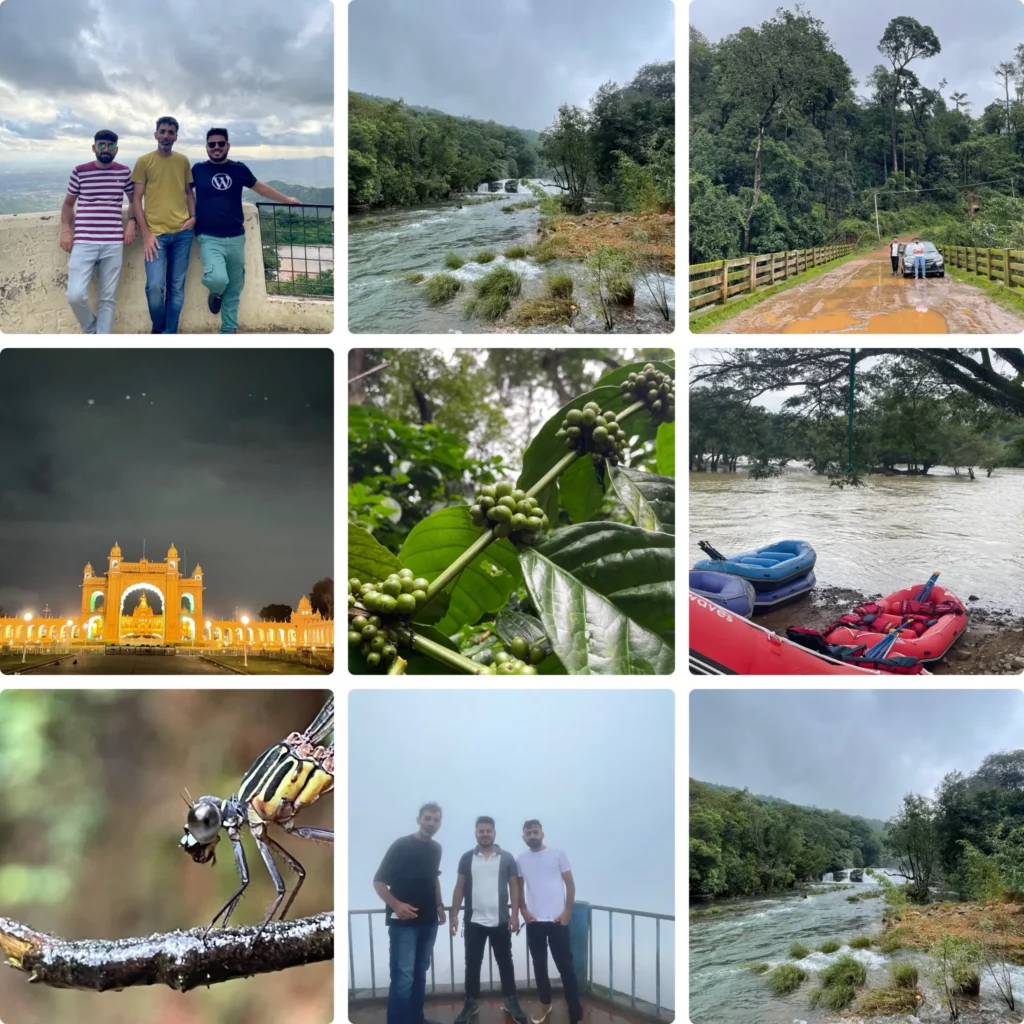 Closing Up
It was our first sponsored WordCamp and we learned a lot. We experienced a new energy looking at the volunteers who did such amazing work together and hosted the first-ever WordCamp in Bengaluru with style.
Kudos to the organizers and volunteers who made WordCamp Bengaluru 2023 a resounding success! Their hard work and passion for WordPress created a memorable and inspiring event. Thank you for making it possible!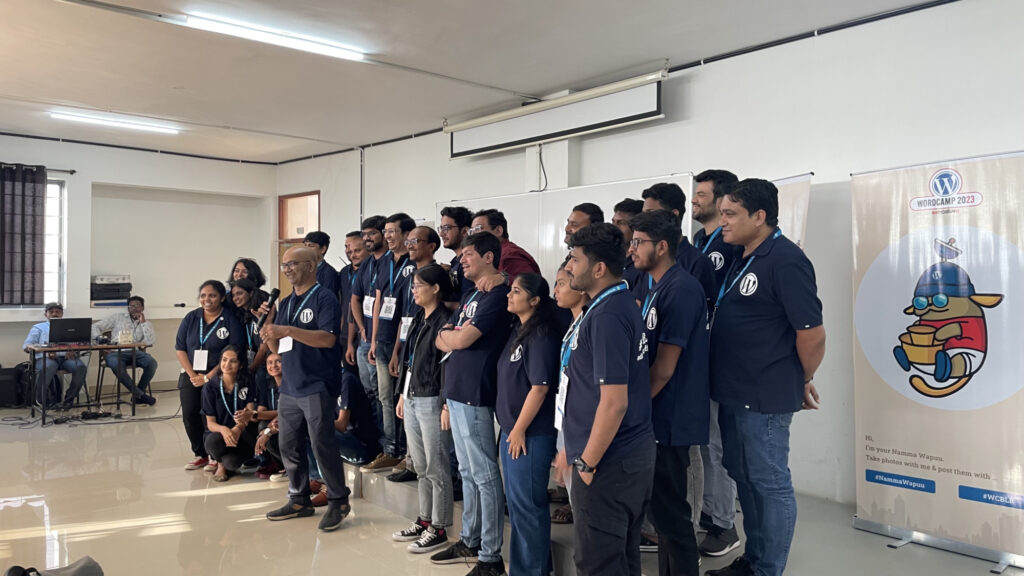 Did you attend WordCamp Bengaluru 2023? What did you like most about the event? Did team Elicus get a chance to talk with you? Do you like the souvenir we offered? 
We will love to hear from you. Please use the comment section to tell us about your experience with WordCamp Bengaluru.
And Be U, as the logo says 🙂