Continuing our love for WordPress and the journey we embarked on more than a decade ago, the team had the opportunity to visit the city of Lakes Bhopal for our next WordCamp event. Being a company that is fully based on products and services related to WordPress it was a great opportunity to meet and connect with fellow WordPress users and professionals.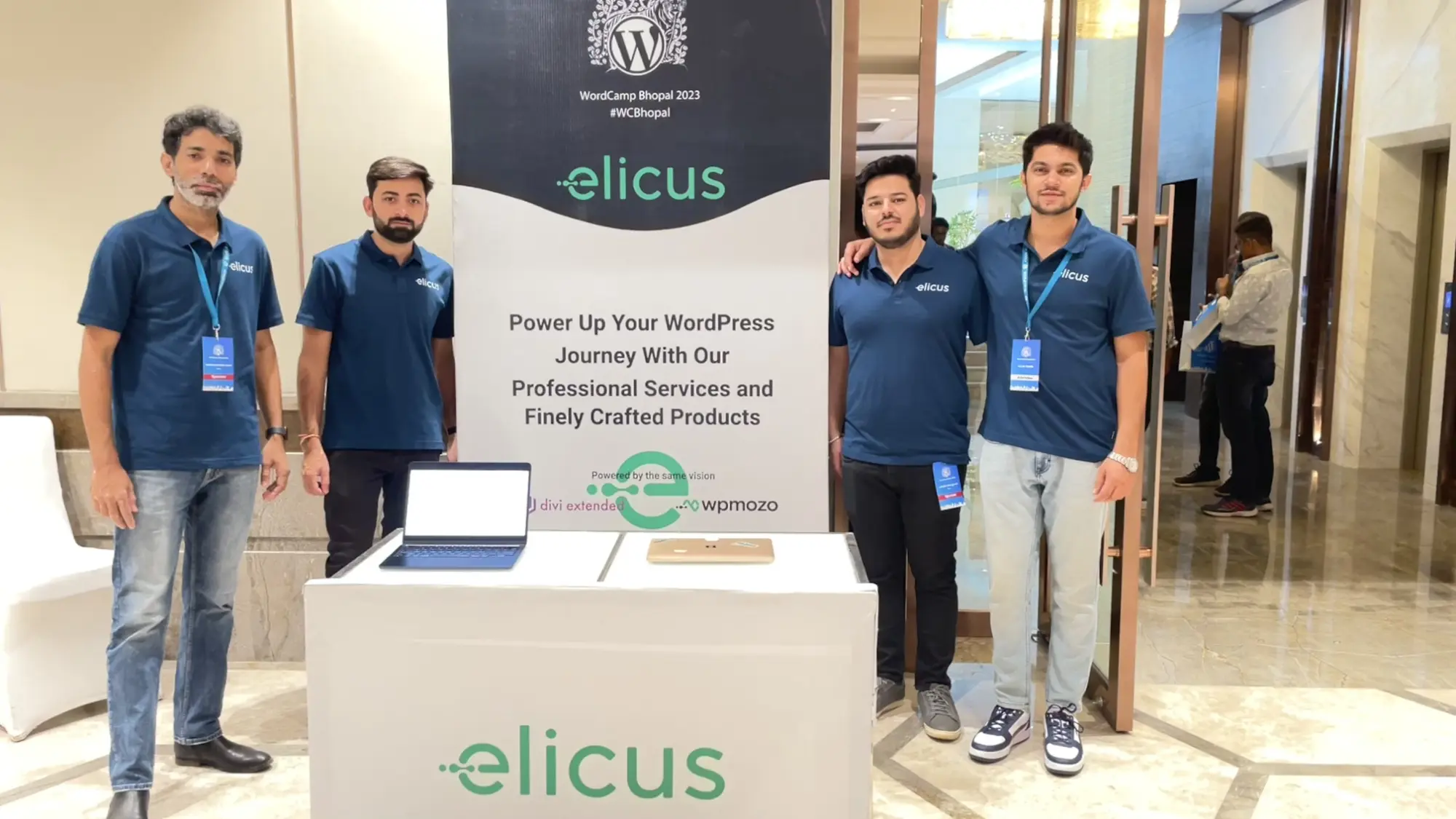 Starting from the Openverse walk in the lush Van Vihar along the lakeside on the 7th Oct 23 till the end with a scintillating after-party on the evening of 8th Oct. The whole experience was incredible for the team Elicus. We got an opportunity to meet hundreds of fellow users at the event, connect with them, and share stories.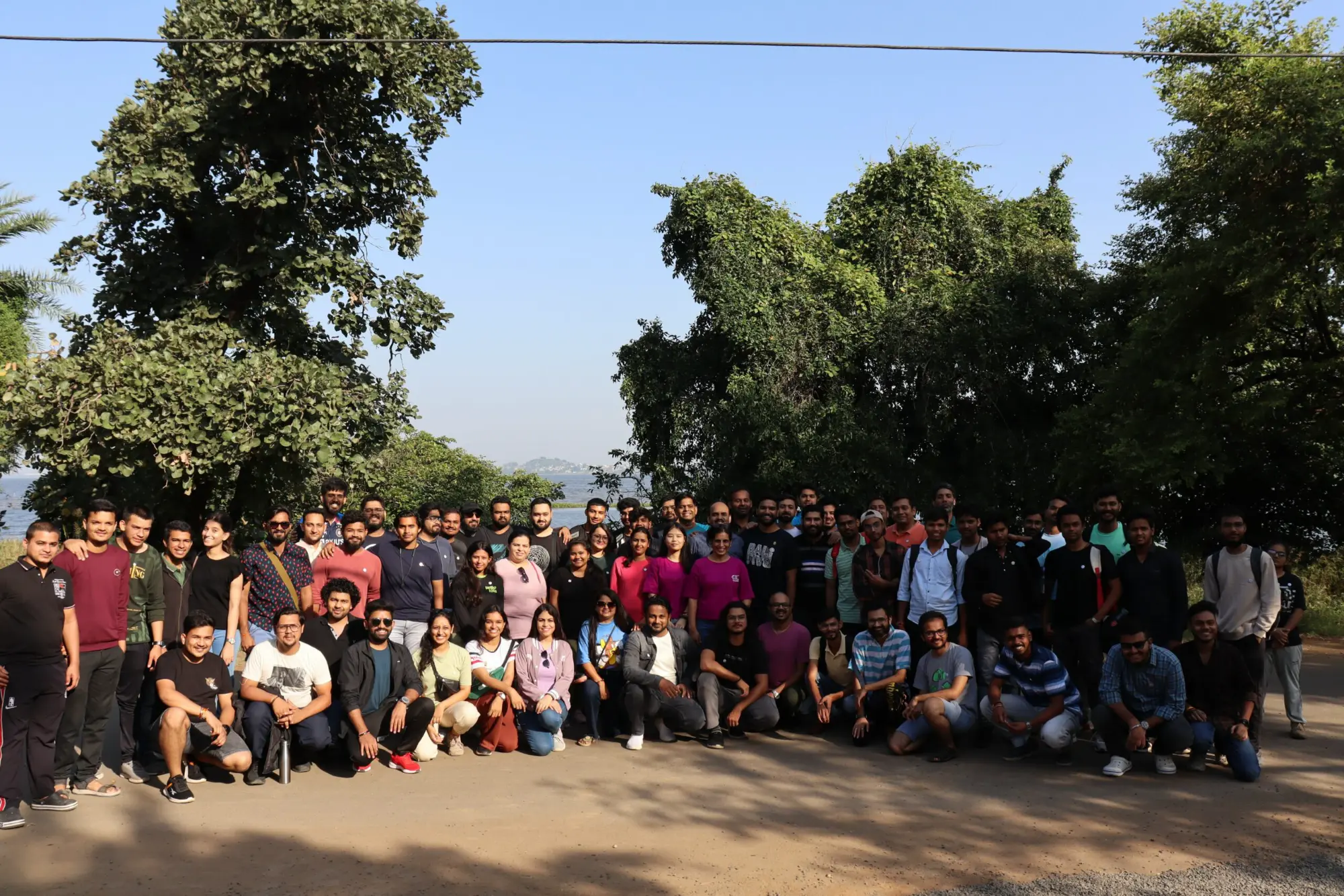 Our other goal for sponsoring and attending the WordCamp event is to provide our team with a platform to explore the beauty of the WordPress community. The Contributor Day was the perfect event for this with more than a hundred contributors to get inspired.
The Contributor Day
The Contributor Day in the WordCamp Bhopal 2023 turned out to be a great inspiration and provided our team with a learning curve on how to contribute to WordPress. There were dedicated tables classified as WordPress core contribution, documentation, support, tutorials, polyglots, and photos. More than a hundred attendees joined this event with great enthusiasm where everyone learned and made some live contribution to WordPress.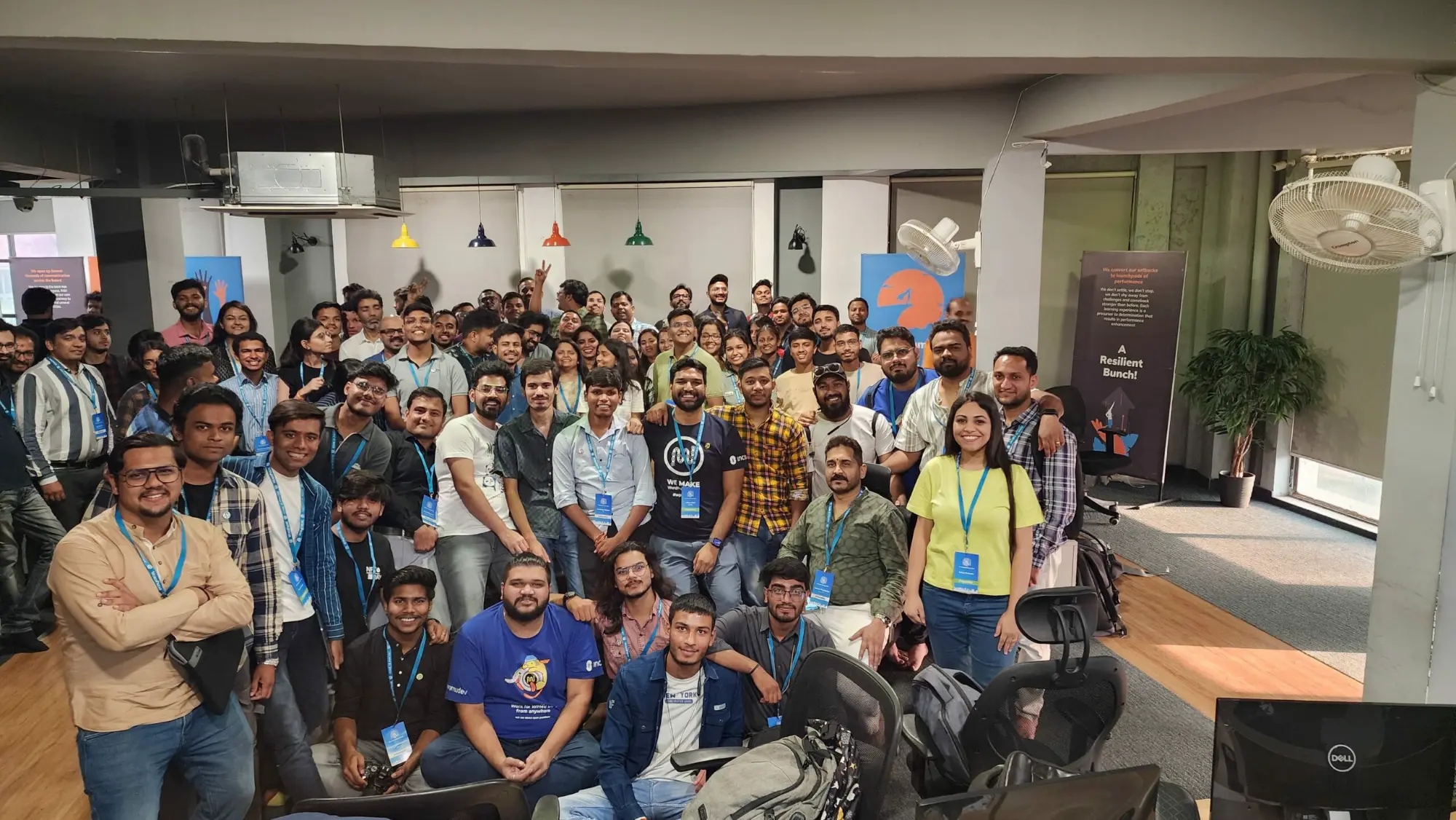 The major takeaway of team Elicus from the Contribution Day was some great tips on contributing to WordPress support with great zeal. The team got a chance to learn some great tips from table lead Prathamesh Palve on being humble and provide a very detailed solution to users looking for any help on the WordPress official support site.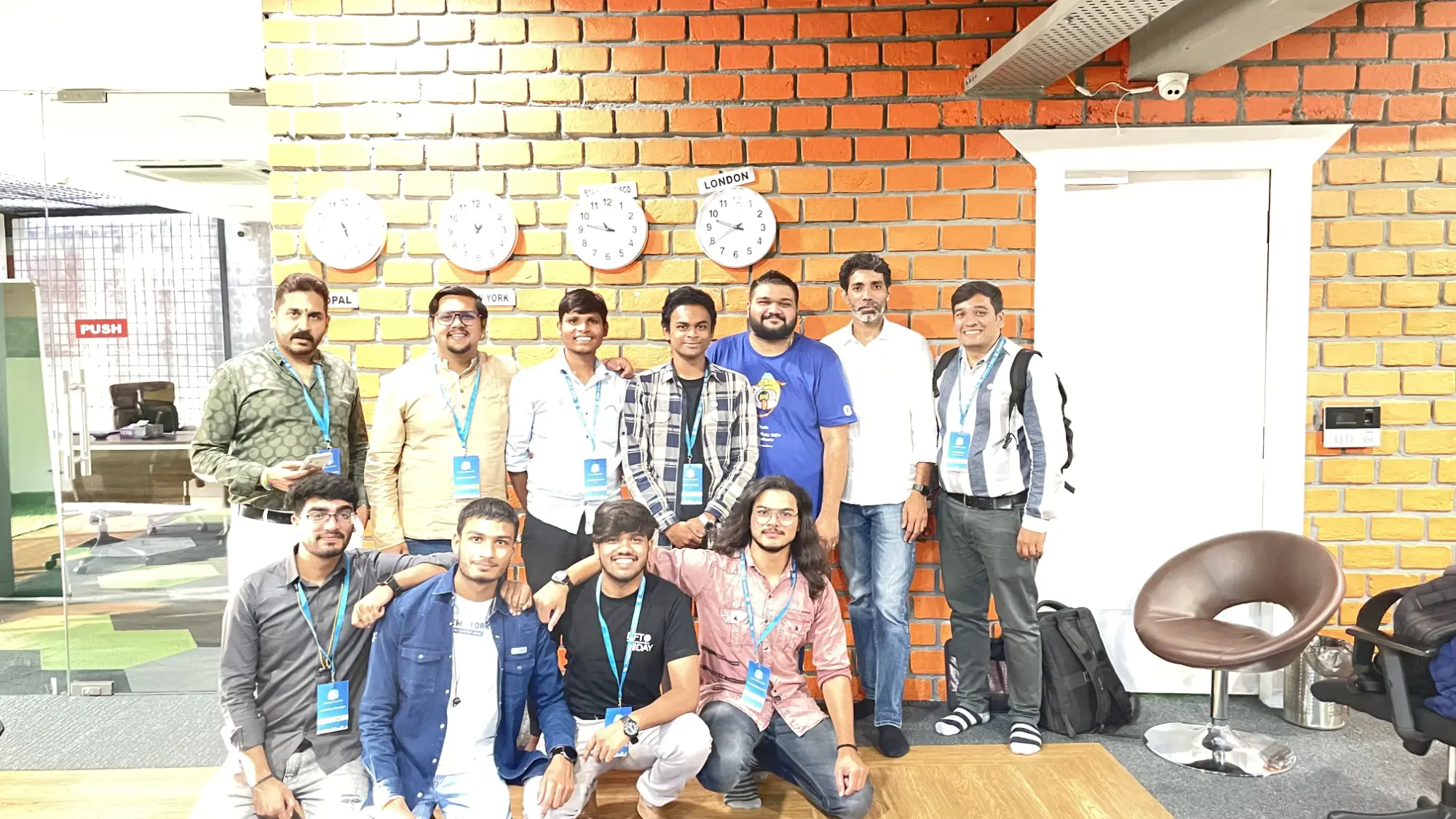 The development team of Elicus joined the core contribution table to get tips on contributing to the WordPress core. The team also got hands-on translating WordPress in different languages at the polyglots table. We also get a chance to know about Learn WordPress, the way we can benefit from the great existing content, and even recommend or create resources for WordPress learners.
Milestone: The WordPress Photo Directory at the time of the event was just a few short of 10,000. The directory now has touched 5 digits figure. Here is a read about it on WPTavern blog on touching the 10,000 mark.
The Main Event
Visitors
Every WordCamp event is full of energy, compassion, learning, questions, and every good thing you can imagine. Elicus was one of the silver sponsors of the WordCamp Bhopal 2023 and we got a booth set up to present our products and services. The team had a very engaging time and we got a chance to connect with a large number of WordPress users and enthusiasts.
We were thrilled to meet such a large number of students who attended the event to learn more about WordPress, the community, and the scope of careers around this amazing platform.
We received ideas for new products and also introduced users to our brands diviextended.com and wpmozo.com. The excitement still languishes about meeting those amazing people.
We gifted some souvenirs to our visitors too. A mousepad and coffee mug.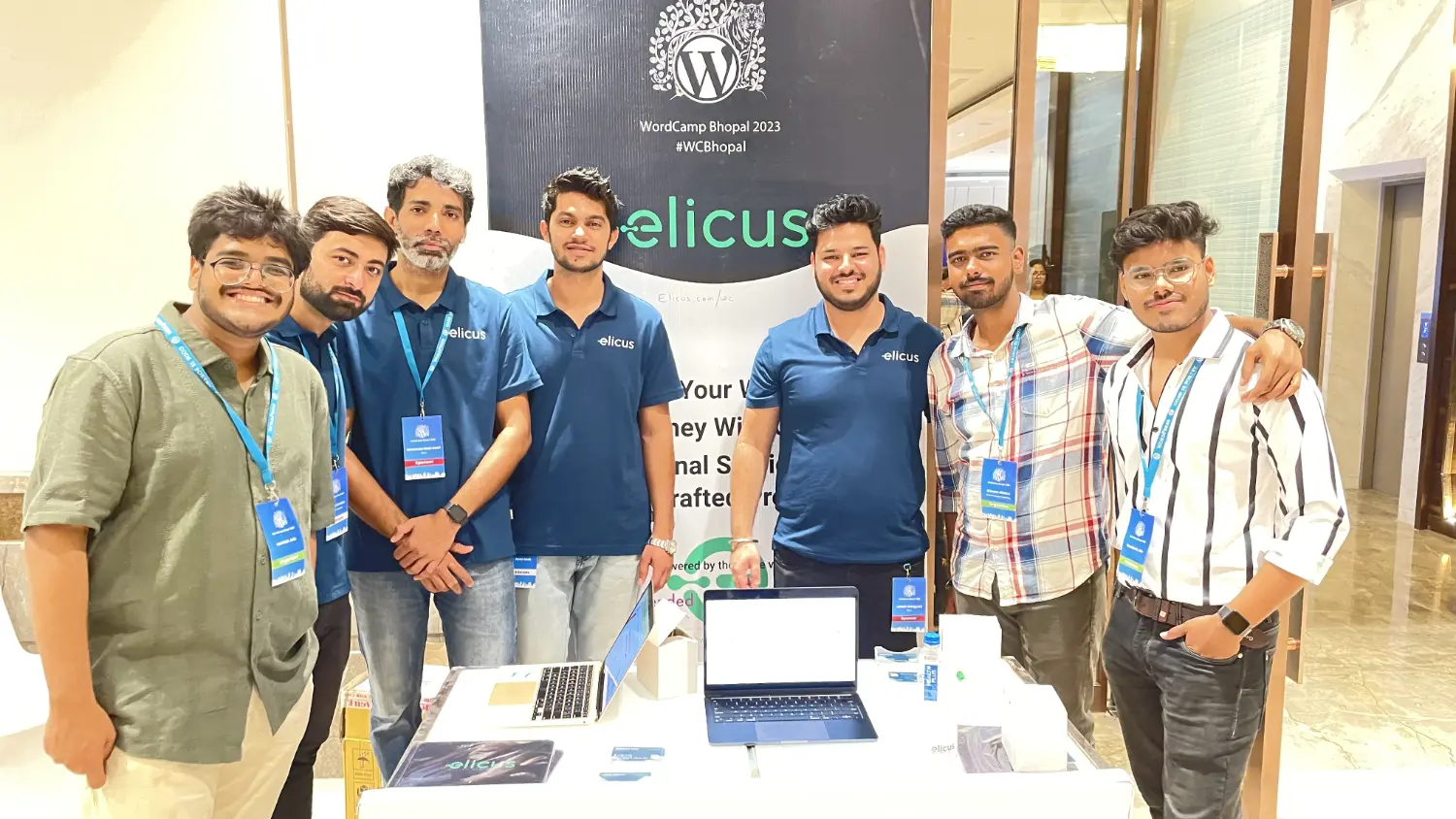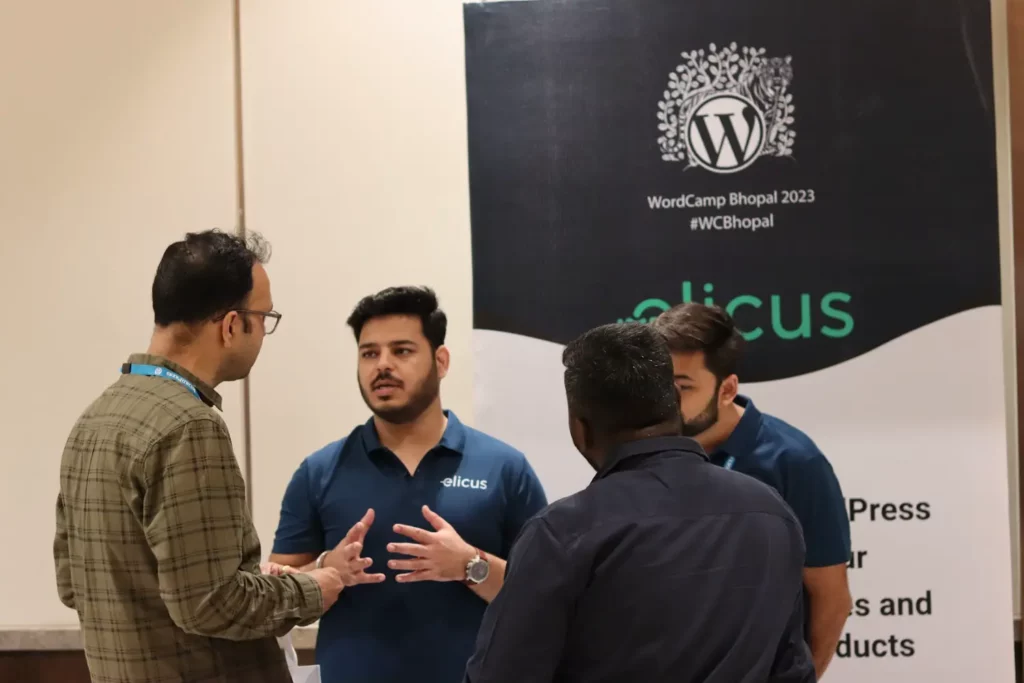 Sessions
WordCamp sessions are full of knowledge and insight on diverse topics. Our team got a chance to attend the following sessions:
Other speakers who shared their amazing experiences and tips at the WordCamp Bhopal 2023:
Amit Kumar Singh, Pooja Derashri, Vachan Kudmule, Nabin Jaiswal, Prathamesh Palve, Yash Verma, Kishan Jashani,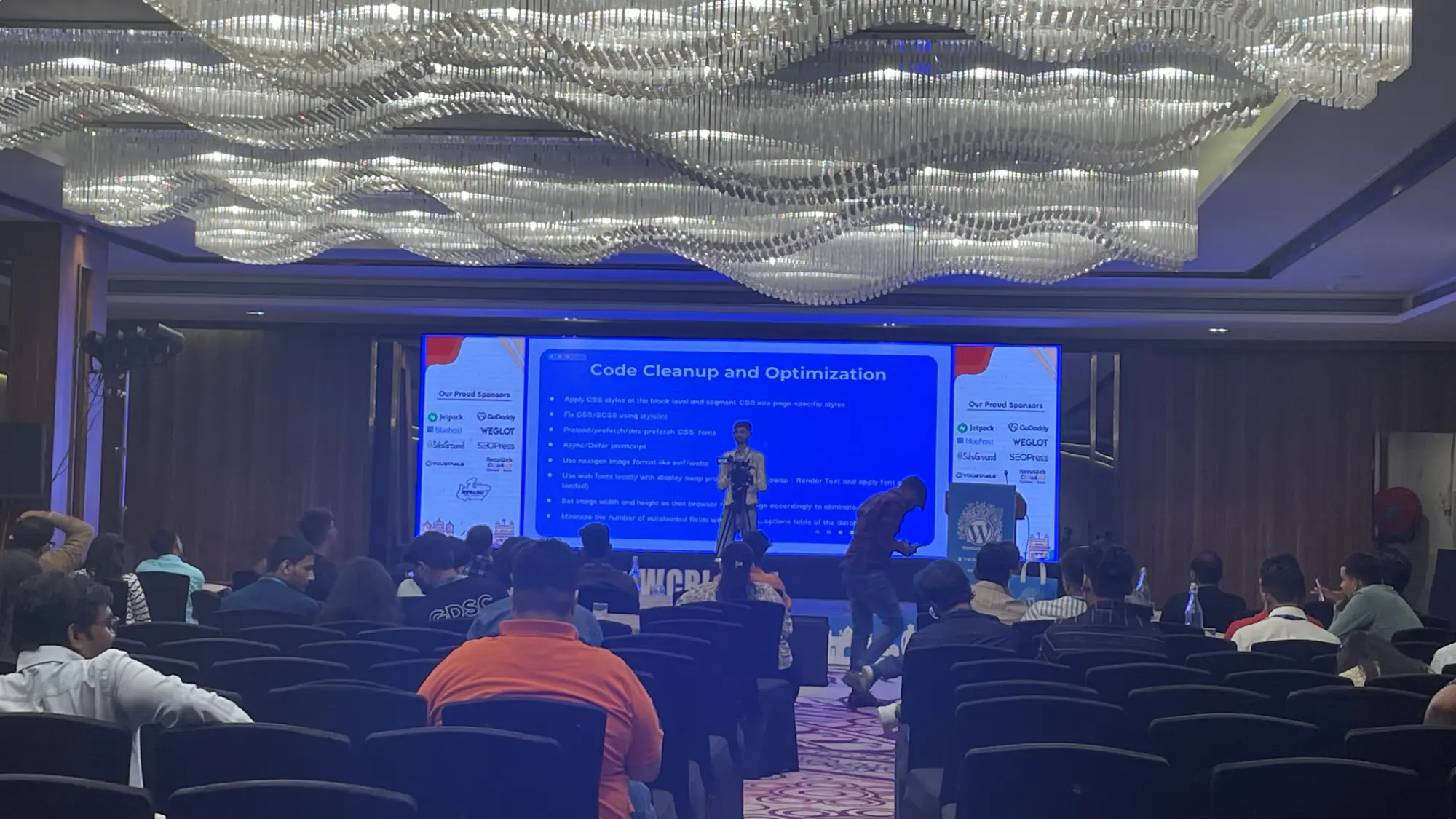 The Organizers and Volunteers
It was our first interaction with the WordPress community Bhopal. The team Elicus was touched by this amazing group of organizers and volunteers who hosted such a fantastic and successful WordPress event in Bhopal after a long COVID-19 gap.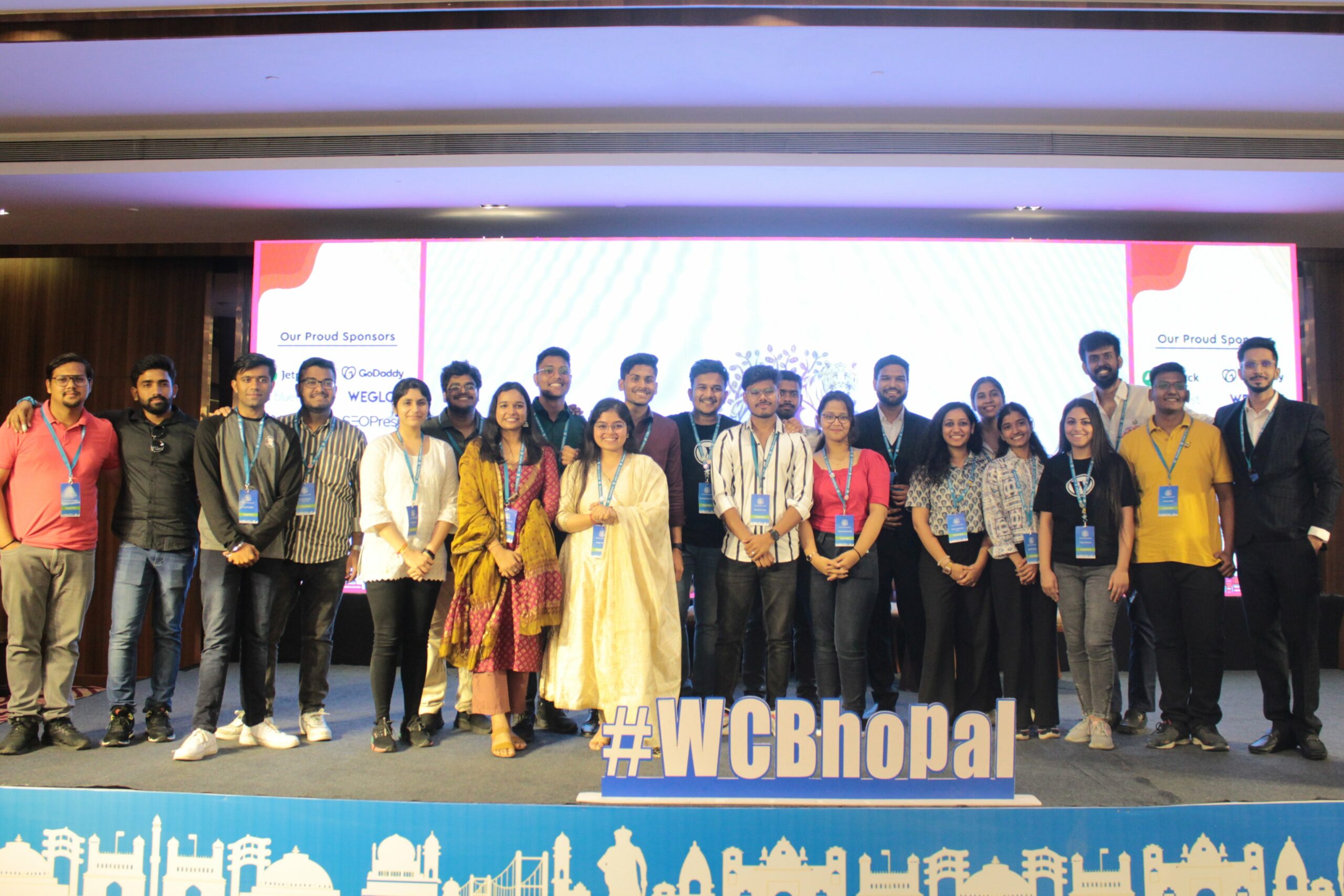 Wrapping up, it was a great green WordCamp where we also received some seeds as swag and would love to share the story in a separate post as the seed buds.
Moments
We are thrilled to announce @helloelicus as our distinguished Silver Sponsor for #WordCamp Bhopal, 2023. Their unwavering support is the cornerstone of our event's success, and we're delighted to have them on board.#WCBhopal #WordCampBhopal #WordCamp #Sponsor #Elicus #Bhopal pic.twitter.com/J6QpzTPBnX

— WordCamp Bhopal (@wcbhopal) September 9, 2023
Started off #wcbhopal with the rejuvenating breeze of nature with a walk in Van Vihar #Bhopal @helloelicus @wcbhopal pic.twitter.com/jKyFxK2exd

— Aayush kaviya (@AayushKaviya) October 7, 2023
Got some cool swags from WordCamp Bhopal! 😎 #WCBhopal #Swags pic.twitter.com/3Qvx6pT6hb

— Rashi Gupta | Attending #WCBhopal (@guptarashi29) October 11, 2023
Meet the amazing @helloelicus team at @wcbhopal 🔥#wcbhopal https://t.co/JkmTZjFfTZ

— Nidhi Jain Organizing #WCUdaipur (@jainnidhi03) October 8, 2023
Our team will be at #WordCamp Bhopal. Connect with us to find out how our tools can help individuals and agencies in their #WordPress journey. @helloelicus https://t.co/Qm2zv4JQwV

— Divi Extended (@DiviExtended) October 7, 2023
Team Elicus is thrilled to wrap up a successful Contributor Day at #WordCamp Bhopal.
As proud sponsors, we're super excited about the main event today and looking forward to connecting with fellow WordPress enthusiasts.
#WCBhopal pic.twitter.com/EXIIwODF0B

— Elicus (@helloelicus) October 7, 2023
Live from #WordCamp Bhopal. Team Elicus is all set and looking forward to meeting fellow #WordPress enthusiasts. #WCBhopal#WCBhopal pic.twitter.com/hKcvLu81m7

— Meher Bala | @WCMumbai Organiser (@meherbala) October 8, 2023
A special thanks to our silver sponsors for their generous support, contributing to the success of WordCamp Bhopal and making it shine even brighter! 🌟@helloelicus @softaculous @ucartz @WooCommerce @wpremote @softspacengp#wcbhopal #WordCamp #wordpress #bhopal #trending pic.twitter.com/IcP2tJVULa

— WordCamp Bhopal (@wcbhopal) October 13, 2023
A fun learning experience to discover all the numerous ways you can contribute to WordPress, and meeting people who are eager to do so and support the community makes it even more rewarding. #wcbhopal #WordPress #wordcamp #contributorsday @helloelicus @wcbhopal #firstwordcamp pic.twitter.com/S7QoKjbfUV

— Aayush kaviya (@AayushKaviya) October 7, 2023
Hey @helloelicus and @ankurkhuranaa @AayushKaviya
Happy to see you pic.twitter.com/x9tc5ofASe

— Ashutosh Gaur (@Iashutoshgaur) October 8, 2023
Okay guys unpack your bag
.
And let's connect with goodies 😀 ……
So i get thissss

Lets Start …………#wcbhopal @wcbhopal pic.twitter.com/CL0g85is8H

— Saurabh (@saurabhmention) October 10, 2023
Thanks a bunch, Team @helloelicus for saving the swag for us. Means a lot! pic.twitter.com/BFQJy7g64o

— Astha Jain (@being_astha) October 11, 2023
Totally blown away by the @wcbhopal #WordCamp experience! Such an amazing and cheerful #WordPress community. The invaluable seeds are unparallel to any other swag. #WCBhopal @helloelicus pic.twitter.com/T0JeJsgco6

— Mohammad Shoeb (@lovemarshall) October 8, 2023
[5/n] Lastly, I joined the elicus booth. And collected a swag of elicus branded Cup and Mouse pad. #WCBhopal pic.twitter.com/G7mhGglatj

— Satyam Vishwakarma – Attending #WCMumbai (@ask_hellosatya) October 10, 2023
A huge thanks to the #WordCamp Bhopal team. Through the magic of #WordPress, we had the opportunity to meet and be touched by your unparalleled hospitality and kindness. From everyone at Elicus, thank you for being so incredible!

— Elicus (@helloelicus) October 12, 2023
Newspaper cover- WordCamp Bhopal
9 October 2023

Left to right: Peoples Samachar, Nai Duniya, Raj Express, Nav Bharat pic.twitter.com/Zp9isBA7K3

— WordCamp Bhopal (@wcbhopal) October 9, 2023
As we wrap up this post, we're eager to hear from our readers who attended the event. Did you get a chance to meet our team? How did you find the event overall? If there's anything you'd like to share or any feedback you might have, please drop a comment below.
Image source: WordCamp Bhopal 2023 – Google Photos, Twitter, Elicus.
What We Introduced to Our Visitors (check out the summary from our recent post about WordCamp Bengalore).
Summarizing How Elicus Products Benefit WordPress Users and Agencies (check out the summary from our recent post about WordCamp Bengalore).