If you want to detect AI content, consider all measures.
People are smart, and when it comes to AI content, they can go beyond all limits. Every day, there's a new update or platform launched that provides content sensationally close to human writing, and if you don't know how to check its authenticity, you could jeopardize your work.
Every now and then, search engines release updates to ensure that websites use original content. If you mistakenly use the content generated by an AI, you could lose potential rankings. Hence, it's high time you start paying extra attention to the content you need from a writer. Whether you need content for your website, team meeting presentations or even essays for your school.
By reading this post, you'll find all the effective ways that can help you detect AI-written content.
(Tips) on How to Detect AI Content
The #1 tip when it comes to detecting AI-written content is Time. AIs work impressively fast, and because of that, they can generate content in just a fraction of the time. And writers who'd like to make money fast will deliver the content in an hour or two.
Here, if you receive content that is likely impossible to deliver in an hour or two or within a day, you should raise your ears.
Even if someone delivers a post within a day, you still should raise concerns in your mind. No matter how free a person is, they cannot write and deliver a post within a day. Even if they do, they are more likely to take more time to edit it.
So, give special attention to the delivery of the content.
Okay, people are smart, and so are the writers. They can intentionally delay the delivery so you won't catch them. Therefore, in that case, keep the following tips in mind.
AI Content Contains a Repeated Behaviour.
AI tools use machine learning, and machines have a fixed set of behavior. If they have used something earlier, they will use it again. However, as they have evolved, they try to make the content original. But despite all the efforts, where they miss creating the AI-generated content original is its structure.
A human writer, when writing a piece, unconsciously creates a pattern that, in the root, doesn't have any uniformity. To say it looks uniform, but if we look closely, we can see variations and repetition of a particular pattern.
But, an AI content with the goal of creating something original keeps a fixed pattern. You won't have many variations. Also, there will be no use of a single word very often.
This is the second tip that can help you detect AI-written content.
If the Copy Is Lacking Emotion, It's Highly Written by an AI
Machines don't have emotions, and this is the biggest drawback they have. It's another tip to find out AI-written content.
If someone hands over to you an AI content, it will lack emotions. There will be no depth in the words and what they are trying to make sense. All you will feel as if you're reading a textbook or a user guide.
You won't find slang, you won't find any humor, and mostly you won't have any connection to it of your own.
The writing will look dull because the AI tools are trained to follow a set guideline that is mostly designed keeping universal use in mind. Furthermore, it won't have any good readability score. Hence, you find no emotion.
If It's Containing Emotions, It Will Lack Originality
So, by reading the above point, it seems AI content is what lacks emotions. And if some piece has an emotion, then it should be considered human-written, right?
Well, a piece containing emotions necessarily can't be human-written. The AI tools are evolving, and some have already evolved in a way that can depict human emotions in the content. Also, a writer who is good at writing a perfect prompt can make AI generate effective content.
Therefore, don't rely on this fact only. Instead, focus on the content's originality as well.
Because AI tools generate a copy whose instances can be found online, which definitely contains a human touch. And thinking that AI is missing the emotional part can affect your work or platform.
Hence, if your copy contains emotions and doesn't show any sign of repeated behavior, look for its authenticity and do that; you can try the following tricks.
(Tricks) You Can Apply to Detect AI Content
The first trick to detect a copy's originality is to look for trends it uses.
Is your copy mentioning any latest trend that could be a writing trend or real-world statistics? If you're satisfied with that, you can also try the following to be more sure.
Check for Plagiarism
Often, AI tools use content that's available on different platforms. It presents an old copy as new by rephrasing it. However, it can miss, and it definitely misses, at least for the next 5 years or so, rephrasing the whole content.
So, if you run the plagiarism check, you can find instances of copied content, which will ultimately rule out the work you've received because there's no place for non-original pieces in the writing world. You can use the following tools to check the content for plagiarism effectively.
These tools can help you effectively check content's originality.
Ask AI
The above tools let you run plagiarism checks on a premium basis. If you don't want to spend more on the copy, you can use the free tools available. However, some would only provide you with a limited number of words checked. So, others are not as effective as the previous ones.
Therefore, in that case, you can ask the AI itself to check whether the written content is authentic or not. In the last update of Google Bard, users can now check the content's authenticity. It can search around online and provide you with similar instances of the content. All you need to do is paste the content you've got, then type your prompt, asking Bard whether it can find similar instances or not.
If the content is not human-written, it will be plagiarism.
And (Tools) You Can Use to Detect AI Content
Highly advanced tools can pass all the above checks. Therefore, it's highly essential we take help from some other AI tools to detect whether the content is AI-generated or not. The following tools can help you do that effectively.
ZeroGPT (Free)
The number 1 free tool available in the market that can easily detect AI content is ZeroGPT.

This tool is very effective and provides you with free checks of up to 3000 words per check. There's no sign-up required, and you can run multiple checks in a single day. It uses the DeepAnalyse technology to run detection and identify content that's generated using AI tools such as ChatGPT 4, Bard and LLaMa models.
This AI detector has been trained using extensive online text collections, different educational resources, and ZeroGPT's proprietary synthetic AI datasets. Hence, it is a powerful tool to detect AI content.
Copyleaks (Free)
Copyleaks is another free AI detector that can help shortlist your human-written content. It can run checks using different online platforms as well as open-source journals.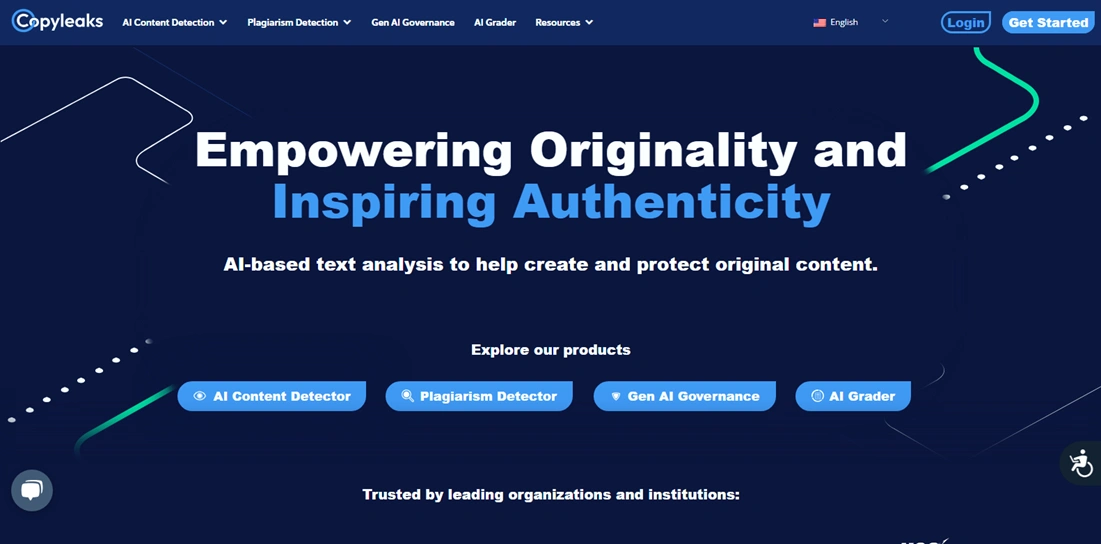 You can detect AI content in over 15 languages, which is only available with the premium version. Also, the free tool only uses the Basic detection method. Hence, you can see a little bit of quality degradation. But you can check AI detection for GPT4, Bard, as well as AI+Human.
Some writers are brilliant; they can modify the AI content, so using the last detect option, you can catch them as well.
Originality.ai (Premium)
Originality.ai is a premium AI detector with the most accurate AI-generated content checking.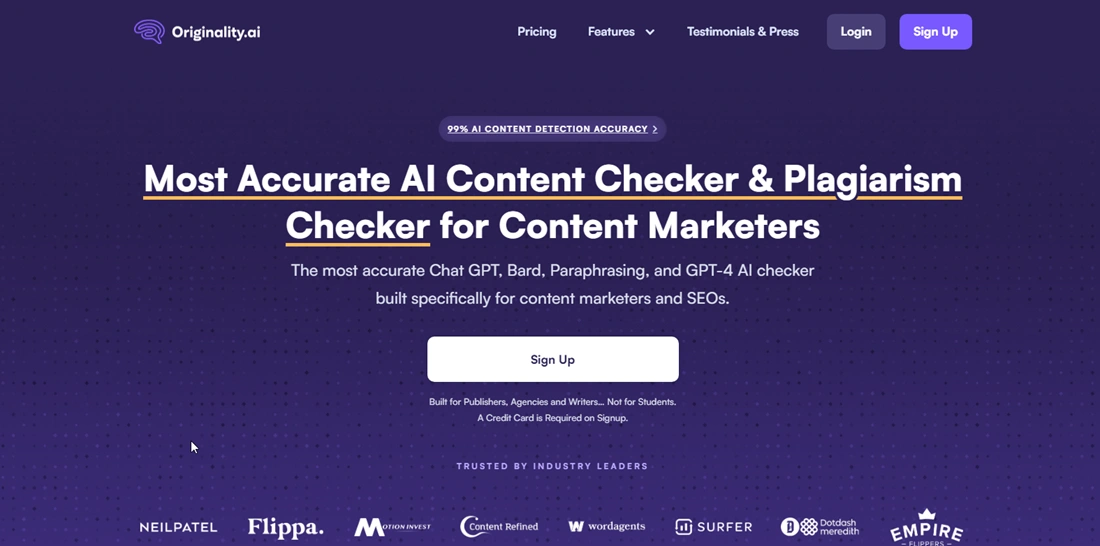 It has been recommended by almost every big tech name online. From Walmart to AT&T, this AI tool is the go-to online tool to determine how humanly the content is written. By using this tool, you can detect content generated by the most advanced tools and keep your website free from any penalties search engines like Google can give to your platform.
Furthermore, it helps you check the readability of your content as well as plagiarism. Thus, a complete AI detector accomplishes all the tricks you need to apply to find out your content's originality.
It starts from $14.95/month for 2000 credits that let you scan 2000 content pieces containing 100 words. For each credit, you can run an AI scan, plagiarism scan and readability scan. Plus, you can share your reports, upload documents, use its API, and much more.
Overall, it's a great and user-friendly tool to maximize your content efforts.
Ending Thoughts
If you want to keep your website free from penalties that might occur because of using AI-generated content, it's best to pay attention whenever you work with your writers. By keeping these tips, tricks and tools to detect AI content, you will always remain one step ahead.
These methods are by far the least expensive because they detect AI content. All you need is your human psyche to find the patterns AI tools miss to create an overall storyline for the particular piece. And if you find it hard, you can always try the free tools if you don't want to spend more to detect AI-generated content.
However, if you do, go for GrammarlyPro and Orginality.ai because these are where the industry's top put their money to get fine work delivery.